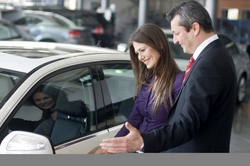 A feature of our scheme is the Flux Dealer Hotline
(Vocus) February 19, 2009
As the recession bites it's vital to clinch every possible car sale. So it's more important than ever that any potential obstacles – such as your customer failing to get insurance for the car – are avoided.
Adrian Flux Insurance Services has put together a Dealer Affiliate Scheme to help car dealers find fast and competitive vehicle insurance for their customers, whatever the car and whatever the driver's circumstances. The package is designed for all dealers, including those in niche markets such as classics, kits, performance, modified cars and 4x4s.
What's more, Flux pays a £30 commission for any insurance policy taken out by a dealer's customer.
"A feature of our scheme is the Flux Dealer Hotline," explains Craig Darwin, dealer coordinator at Flux. "This is an 0800 phone number, so dealers' customers can call for free. They'll be put through to a specialist insurance executive whose job is to tailor any quote to get the best possible cover at the best price.
"Flux has loads of different schemes and we can cover just about any car and any driver, so issues like Q plates or customers with convictions aren't usually a problem for us."
Darwin adds: "We've designed the package not only to give dealers an incentive, in the form of the £30 commission, but also – and more importantly - to give them the insurance back-up they might need to nail the sale."
Dealers who sign up to the Flux package receive a unique 'D' number – when their customers call Flux and quote the number, they get priority service and the commission is automatically allocated to the dealer.
The Flux scheme also offers an automatic online facility. Dealers can add a Flux banner to their website which hyperlinks to the Flux quote page. Any customer using the link to visit the Flux site automatically generates the £30 commission, once they take out a policy.
The Dealer Affiliate package also includes a variety of promotional items, such as business cards and leaflets with the dealer's details, their D number and the Flux Dealer Hotline.
For more information on the Flux Dealer Affiliate Scheme contact Craig Darwin direct
on 01553 845 585 or email him at craig.darwin@adrianflux.co.uk
For more information on Flux visit http://www.adrianflux.co.uk
PRESS ENQUIRIES: Flux Scheme Helps Car Dealers Nail the Sale.doc – Feb-09
TONI TURNER OR ALISON HAYNES AT THE PUBLICITY WORKS: (01263) 761000
CRAIG DARWIN AT ADRIAN FLUX INSURANCE SERVICES: 01553 845585
###