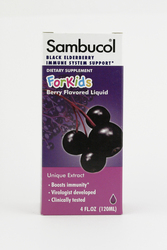 If your child catches one of the many seasonal viruses going around, Sambucol® for Kids can be taken to help fight off the viruses and shorten the duration of the symptoms.
Nottingham, UK (PRWEB) February 19, 2009
The illnesses that go along with the winter months are spreading rapidly and for many, these illnesses may be brought home by the smallest family members. According to a recent survey* conducted for Sambucol Black elderberry dietary supplements, U.S. adults who have children (23%) are more than twice as likely than those without children (10%) to be concerned about picking up the cold/ flu virus at home. In addition, 19% of U.S. adults said that over the past five years they usually got sick if someone in their family was sick.
"Adults who live in households with children are more at risk for getting sick than those without children," says Claire Wheeler, M.D., integrative health expert and a former Associate Fellow in the Andrew Weil, M.D. training program for physicians at the University of Arizona. "Kids are good cold/flu spreaders because they don't cover their mouths or wash their hands as diligently as adults do. It's important for parents to build up their children's immune system so that they're better equipped to fight off the many viruses that come with the winter season," advises Dr. Wheeler.
Dr. Wheeler offers the following tips to help boost children's immunity:

Enforce bedtime. Children need more sleep than adults. "Make sure your child gets at least eight hours of sleep each night. Sleep deprivation is a powerful immune suppressant," says Dr. Wheeler.
Make healthy meals that your child actually will like. This can be especially hard if you have a picky eater. Try to give your child plenty of fruits and vegetables. Cookbooks with fun and creative ways to make veggies and fruits can help.
Give them vitamins. A multivitamin can help children get the vitamins and minerals that might be missing from their diet. Make sure to consult with your healthcare provider for advice on which type to give children based on their age, weight, etc.
Make time for play. Making sure children get plenty of exercise will help to boost their immune system. "Exercise is a powerful immune booster, and even a little is better than nothing," adds Dr. Wheeler.
More water and less juice. "Toxins build up and strain immunity when you don't get enough water in your diet. Any drink with sugar can actually dehydrate and increase your child's need for water," says Dr. Wheeler.
Try an immunity-boosting dietary supplement. It's hard for most parents to do all these things all of the time, so adding a dietary supplement provides a little bit of insurance. Black elderberries are unusually rich in antioxidants, and antioxidants are thought to be necessary to support the immune system to fight viruses. "Sambucol® For Kids, black elderberry dietary supplement for children ages two and up, tastes good and can be used daily to help keep your child's immune system in good shape," says Dr. Wheeler. "If your child catches one of the many seasonal viruses going around, Sambucol® for Kids can be taken to help fight off the viruses and shorten the duration of the symptoms."
Sambucol® Black Elderberry dietary supplement is the original black elderberry extract developed by a virologist and researched and tested in published clinical trials showing it to help support the immune system. The Sambucol® line of products, manufactured and sold by Healthcare Brands International, is available nationwide at major pharmacy chains (Rite Aid, Walgreens and CVS) Vitamin Shoppe (Vitamin Shoppe), health food stores, independent drug stores, and online at drugstore.com.
*Survey Methodology
Harris Interactive® fielded the study on behalf of Sambucol black elderberry from October 8-10, 2008 via its QuickQuerySM online omnibus service, interviewing a nationwide sample of 2,212 U.S. adults aged 18 years and older. Data were weighted using propensity score weighting to be representative of the total U.S. adult population on the basis of region, age within gender, education, household income, race/ethnicity, and propensity to be online. No estimates of theoretical sampling error can be calculated; a full methodology is available.
Note to Media: For more information on the clinically-proven, immune boosting properties of Sambucol or to set up an interview with Dr. Wheeler, contact Rachahd Tosado at Robin Leedy & Associates, (914) 241-0086 ext. 15, or rtosado@robinleedyassociates.com. Visit the Sambucol online newsroom at http://www.corporatenews.net/cgi-bin/pc200v3.php?pccl=24859 and http://www.blackelderberry.info for published clinical studies on Sambucol black elderberry.
###