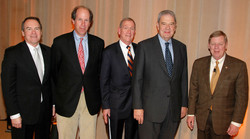 The pendulum always swings back in the other direction
Atlanta, GA (Vocus) February 20, 2009 –
A panel discussion held earlier this week addressed the challenges with today's housing market and the economy as it relates to individuals near and in retirement as well as their family members. Delivered to a crowded room of anxious seniors, many of whom are struggling with the decision to put their home on the market, the discussion focused on current housing market conditions on both the local and national level, the outlook and options for retirees looking to sell their homes and home values in today's marketplace. Attendees were encouraged to create a change in the real estate industry by reevaluating their perceptions of their homes as investments and to expect the approaching market rebound to be gradual.
The event, held at the Atlanta History Center, featured U.S. Senator Johnny Isakson, R-Ga.; David Haddow, president and founder of Haddow and Company; Jim Ware, managing broker of the Buckhead office of Coldwell Banker and James Frazier, Jr., founding partner of Frazier and Deeter.
Isakson presented a national perspective on the housing crisis and the events that led to it. Isakson predicted an impending "reflation of the housing market back to normal."
"The pendulum always swings back in the other direction," said Isakson. "A floor on which we can build upon and accelerate out of will return to the housing market and unlike other recessions, which we came out of with a tremendous oversupply of homes, Georgia is positioned in this recession to see the market return in an orderly fashion. It likely will not be fast, but it will be soon."
Ware reassured attendees that homes are selling, albeit slowly and at low prices. According to Ware, Atlanta's home buyers are looking for deals and prioritizing quality in terms of home features over home size. He advised attendees to seek professional expertise to stage their homes properly and price their homes at a level that buyers will perceive as a value.
Frazier advised seniors to adjust their perceptions of their home as an investment, considering today's marketplace, depreciation and home maintenance costs. In addition, he advised attendees to instead invest their money in more tangible assets than their homes.
Haddow presented data on housing in metro Atlanta and stressed several encouraging characteristics about the area's housing market: housing starts are low, interest rates are low,
Atlanta's drop in home prices is not as drastic as in other places across the nation and Atlanta's population continues to grow. These characteristics combined should make for a positive turnaround, according to Haddow.
Neil Williams, retired General Counsel of AMVESCAP, PLC, one of the world's largest investment management complexes, and local community volunteer, moderated the discussion.
The overall theme of the discussion centered on restoring confidence in Americans. Senator Isakson's comments on restoring confidence were returned with enthusiastic applause from the attendees. "As difficult as things are, look at where we have come." He described the advancement of the United States from the Civil War to electing the nation's first black President, Barack Obama, last November, this month's Iraq-led provincial elections and last month's miraculous safe landing of US Airways Flight 1549 on the Hudson River. "Anything is possible in this great nation. We have to believe we can do it."
The Behind the Headlines event was the first in a three-part series, hosted by Peachtree Hills Place, a residential community offering a continuum of care in Buckhead for people ages 55 and older, that will discuss the issues directly affecting this demographic.
The March panel discussion will focus on financial management and retirement in today's economy and the April discussion will focus on the health risks seniors face and how to manage the cost associated with future health care. For more information, visit http://www.peachtreehillsplace.com or call 404-467-4900.
Peachtree Hills Place is a residential community for people ages 55 and older seeking to live a secure, independent lifestyle with easy access to a continuum of healthcare. Peachtree Hills Place is being developed on the 23.3-acre site at the intersection of Peachtree Hills Avenue and Virginia Place, in the heart of south Buckhead, near Atlanta's best shopping, dining and cultural outlets. The new, $200 million community will include 274 independent residences, 36 skilled nursing and memory care suites, a clubhouse, fitness center, and greenhouse. Peachtree Hills Place will address the total wellness of its members, with programs and facilities in place to help members blend a satisfying life through Physical, Psychological, Social, Spiritual, Intellectual and Occupational components. When health status changes, members will have access to an on-site health center. Life Care Services, LLC, a leading management company of senior communities in the nation, will oversee management and administration of Peachtree Hills Place.
Isakson Living is Atlanta's leading developer of residential communities offering a continuum of care for adults ages 55 and older. Isakson Living upholds a personal and professional commitment to empowering members through groundbreaking wellness opportunities, concierge medicine and hands-on involvement in their communities. Isakson Living has won multiple awards for its flagship community, Park Springs in Stone Mountain, Ga., and Peachtree Hills Place in Atlanta, currently in development. For more information on Isakson Living, visit http://www.isaksonliving.com or call 770-559-4829.
# # #