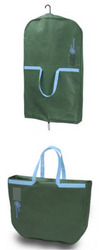 While one bag is at the cleaners, another bag can be used as a hamper to store dirty clothes for the next order.
Denver, CO (PRWEB) February 26, 2009
Approximately 100 billion plastic bags are thrown away by Americans each year. Included in this epidemic are the millions of plastic garment bags used by dry cleaners that are used once and thrown away. Committed to the elimination of unnecessary plastic bag production and waste, ReusableBagsDepot.com has added reusable dry cleaning bags to their product offerings.
Bryan Phillips, advocate of sustainable living and founder of Reusable Bags Depot, has made it his personal mission to offer practical eco-friendly products designed to help humans live greener lives. One use dry cleaning bags are the next target on his war on throw away plastic bags.
"As a proponent of recycling and reuse for over 20 years, I wanted to use my skills and passion to take my involvement in the green movement to a new level. The creation and operation of Reusable Bags Depot has provided an outlet and has reinforced our family's commitment to use reusable shopping bags whenever we shop. We're ecstatic to add dry cleaning bags to our offerings - so far the response has been extremely positive," said Phillips.
Dry cleaning is not inherently good for the environment considering that most cleaners still use toxic chemicals to clean clothes. To reduce this damage, consumers can either eliminate dry cleaning entirely or seek out green cleaners who minimize the use of harmful chemicals and accept reusable dry cleaning bags. Phillips contends that most dry cleaning operations will accept them but recommends calling your operator prior to any purchase.
The reusable dry cleaning bags ReusableBagsDepot.com offers serve as a laundry hamper at home, a tote bag for easy transport to the cleaners, and a hanging garment bag for the trip home eliminating the need for plastic throw-away bags.
"For regular dry cleaning customers, we've found that two dry cleaning bags are the most practical solution," Phillips added. "While one bag is at the cleaners, another bag can be used as a hamper to store dirty clothes for the next order."
For additional information on reusable dry cleaning bags, visit Reusable Bags Depot.
Contact:
Bryan Phillips
Reusable Bags Depot, LLC
303.835.7373
http://www.reusablebagsdepot.com
###