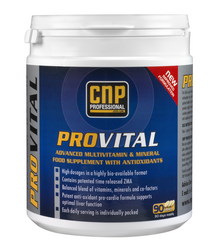 The idea is to make it as simple as possible for athletes at all levels to get the supplements they need
(Vocus) February 24, 2009
For serious athletes there are a myriad of nutritional supplements that boost performance levels and aid recovery. Getting the right balance can be confusing, and remembering to take the right combination at the right time is an extra burden to an already busy training schedule. For non-professionals trying to fit everything in around work commitments it's hard to find the time to train let alone select and devise an effective supplement programme.
CNP Professional is a sports nutrition company set up by athletes for athletes. Kerry Kayes, its founder, is a former champion body builder and currently a nutritional and training adviser to top sports people. Now CNP has launched a reformulated Pro Vital, an advanced multi-vitamin and mineral supplement with anti-oxidants, which is comprised of three tablets taken at the same time.
"The idea is to make it as simple as possible for athletes at all levels to get the supplements they need," explains Kerry Kayes. "The government recommends five fruit and veg per day and apart from fibre this does give us all our vitamins and minerals. But a hard training athlete needs more like five to eight per day which is a lot of fruit and vegetables to munch through! Pro Vital supplies all the essential micro-nutrients for an athlete in a convenient format."
Pro Vital's three tablets contain a carefully devised combination of vitamins, minerals and anti-oxidants that play a significant role in promoting optimum health and recovery during training and competition. Endurance athletes such as runners, cyclists and triathletes, as well as power athletes such as boxers and rugby players, will all benefit from adding Pro Vital into their dietary regime.
For convenience one of each of the three tablets are packaged into a single daily-dose sachet. The three can be taken together each morning with food – there is no need to stagger the dose. Previously the Pro Vital tablets had to be split into a morning and evening dose as some nutrients adversely affected the other's absorption rates. But the new formulation uses a time-release coating on the ZMA tablet so that all the three tablets can be taken in one go.
The contents of each sachet are split into three 'vital' components: anti-oxidants, the patented time-release ZMA (zinc monomethionine and magnesium aspartate) and a high strength vitamin and mineral combination.
Pro Vital can play a significant role in maintaining overall health and fitness. Zinc is critical for muscle growth and tissue repair after injury and magnesium is important for cardiovascular, metabolic and bone health. Together they enhance muscle mass and general well-being. The vitamins and minerals included in Pro Vital play a significant role in promoting optimum health and recovery while the anti-oxidant pro-cardio formula supports optimal liver function.
Pro Vital is available online at http://www.cnpprofessional.co.uk and the prices have been held at the old price of £27.39.
CNP Professional is one of the UK's leading sports nutrition specialist companies. For more information visit http://www.cnpprofessional.co.uk, or call +44 (0) 161 320 1212 for sports nutrition advice and +44 (0) 161 320 8145 for sales.
ProVital.doc – February 09
Press enquiries: Toni Turner or Alison Haynes at The Publicity Works
Tel: +44 (0) 1263 761000
Paul Riley, Marketing Manager, CNP Professional: +44 (0)161 320 8145
Photography is available in a choice of formats on request from cnp(at)publicityworks.biz
Notes for editors
Pro Vital
ANTIOXIDENT BLEND
Ingredients
Trimethylglycine, Astaxanthin, Di-Basic Calcium Phosphate,
Maltodextrin, Modified Maize Starch, Policosanol, Magnesium
Stearate (Veg Origin).
Dosage per one tablet
Trimethylglycine 250mg
Policosanol 10mg
Astaxanthin 2mg
ZINC MONOMETHIONINE & MAGNESIUM ASPARTATE
Ingredients
Magnesium Aspartate, Microcrystalline Cellulose, Zinc
Monomethionine Aspartate, Polyvinylpyrrolidone, Modified Maize
Starch, Magnesium Stearate.
Dosage per one tablet %RDA
Magnesium Aspartate 90mg's Mg 24
Zinc Monomethionine Aspartate 30mg ZMA -
VITAMIN & MINERAL COMPLEX
Ingredients
Calcium Carbonate, Microcrystalline Cellulose, Vitamin C 97%,
Inositol 97%, Para Amino Benzoic Acid (PABA), Modified Maize
Starch, Potassium Chloride, Vitamin B1, Di-Basic Calcium
Phosphate, Vitamin B6, Vitamin B5, Vitamin B2, Vitamin B3,
Vitamin E 50% SD, Choline Bitartrate 41.5%, Magnesium Stearate,
Vitamin A Acetata 250cws, Manganese Sulphate, Monohydrate,
Vitamin D3 Dry 100,000iu/g, Copper Sulphate, Iron, Vitamin K1
5%, Chromium Picolinate, Folic Acid 99%, Molybdenum, D-Biotin
Pure 99%, Selenium Yeast, Iodine, Vitamin B12.
CNP Professional is a leading supplier of sports nutrition supplements ranging from protein shakes, protein bars, creatine supplements, meal replacements, mass gainers, weight loss supplements and post work out shakes all designed for the ultimate in sports nutrition.
Kerry Kayes, the founder of CNP Professional is a former national bodybuilding champion. He has been involved in sports nutrition for many years and his dietary expertise has established him as 'the man in the know' to sportspeople worldwide ranging from the Ericsson Round the World Yacht Team, boxer Ricky Hatton, dart's champion Phil 'The Power' Taylor, international strongman Glen Ross and Sean Long of St Helen's RLFC.
CNP Professional supplements are carefully formulated to ensure that the body is able to make best use of the nutrients. Unlike many nutritional supplements, CNP Professional's products are easy to drink.
There are several articles explaining protein nutrition supplements on the CNP website - go to the home page and click on 'nutrition' under the articles section.
###