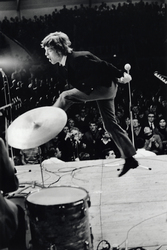 The discovery of so many never-before-seen photographs of the two most influential bands in rock history, captured at the most pivotal time in their careers, is a once-in-a-lifetime event
New York, NY (PRWEB) February 25, 2009
New York, NY -- Forty-five years after the The Beatles and The Rolling Stones first came to America, an extraordinary collection of "lost" photos of the young bands has just been discovered. The 3,500 photographs -- extraordinary, intimate and unpublished -- were taken by Bob Bonis, their U.S. Tour manager, during their first U.S. tours (1964, 1965 and 1966) and document perhaps the most critical point in their careers: coming to America.
The Bob Bonis Archive of photographs is now exclusively represented by the Not Fade Away Gallery, which has announced its first show, "The British Are Coming: The Beatles and The Rolling Stones 1964-66," to inaugurate the Gallery, March 4-April 14. The Not Fade Away Gallery is located in New York City at 901 Broadway, 2nd floor, at the corner of 20th Street.
The Gallery's first exhibition will feature 50+ images of The Beatles and The Rolling Stones that establish the unparalleled access and close friendship Bob Bonis (1932-1991) had with the young men who became the most significant rock musicians of the 20th century. Revealing a private, behind-the-scenes glimpse into the early days of rock 'n' roll, the photos show the boys in candid, intimate shots on stage, in rehearsal, in concert, backstage (tuning up, waiting to go on stage and clowning around), dressing and relaxing, on vacations or en route to shows or cities, getting haircuts, bowling, recording in the studio, at press events and just hanging around being themselves.
"The discovery of so many never-before-seen photographs of the two most influential bands in rock history, captured at the most pivotal time in their careers, is a once-in-a-lifetime event," says Larry Marion, founder/director of Not Fade Away Gallery (http://www.NotFadeAwayGallery.com) and an acknowledged expert in the field of music memorabilia. "In more than twenty years as a rock 'archeologist,' I've never come upon a discovery of this magnitude -- thousands of extraordinary unpublished photographs of The Beatles and The Rolling Stones -- young, innocent and unguarded. This is likely the largest single trove of such important unknown photographs ever uncovered."
For over forty years, the negatives and slides were safely stored away unbeknownst to anyone but Bob Bonis' family. Bob's son Alex recently unearthed them and brought them -- along with his father's collection of memorabilia from his Tour Manager days -- to Larry Marion for appraisal. In fact, the photos were at the bottom of a duffel bag of memorabilia--brought out almost as an afterthought. Now, Alex Bonis is one of the partners in Not Fade Away Gallery, which will begin to make these images available for exhibition and for sale as museum-quality fine art photographic prints (both black-and-white and color), in extremely limited editions, printed on era-appropriate paper, utilizing traditional photographic printing methods.
A private man, Bob Bonis never sought publicity and wasn't interested in pursuing attention based on his past exploits. He started out as a New York City talent agent in the late 1950s and through a series of unremarkable circumstances, he came to hold an extraordinary position at a pivotal time in rock history -- U.S. Tour Manager for both The Beatles and The Rolling Stones during their first U.S. tours in 1964 and continuing through 1966. Since his personal passion was photography, he took his camera along wherever he could and took photos of everyone he worked with--capturing incredibly intimate photos that the world is about to see for the very first time.
In addition to more than 3,500 photos he took of The Beatles and The Stones, Bob photographed Simon & Garfunkel, The Hollies, Cream, The Lovin' Spoonful, Buddy Rich, Frank Sinatra and many of the jazz greats he worked with. Not Fade Away Gallery has upcoming shows of these photographs scheduled for the coming year.
The extraordinary private moments Bob Bonis captured are now available for all fans and collectors of music and fine art photography to see and experience at Not Fade Away Gallery, honoring the life and work of Bob Bonis.
"The British Are Coming: The Beatles and The Rolling Stones 1964-66"
Not Fade Away Gallery, 901 Broadway (at 20th Street)
March 4th-April 14th
All photographs by Bob Bonis, copyright 2009 by 2269 Productions, Inc.
# # #