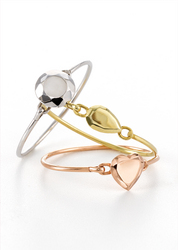 Iceing On Top incorporates eco-friendly values into every facet of their collection, from the product to the packaging.
New York, NY (PRWEB) February 26, 2009
Iceing On Top launches its collection of fine childrens jewelry , now available in stores and online at http://www.iceingontop.com . Inspired by children and their need for expression, Iceing On Top's line of eco-friendly fine gold jewelry is a unique treat for babies and kids - and especially the adults who love to dress them up! The jewelry fits infants through teens and makes the perfect childrens' gift that lasts a lifetime. The 'GREEN' collection is made from recycled gold, ethically-mined materials, and organic fabric and recycled paper packaging.
Iceing On Top's debut line of fine childrens jewelry includes 14Karat gold bangles, bracelets, earrings and necklaces. Created as gold replicas of diamond cuts, the Iceing On Top signature shapes contain: rose gold faceted hearts, yellow gold faceted pears, white gold faceted rounds and yellow gold faceted emeralds. Each golden shape, either worn alone or mixed together, reflects the unique appearance of the line and the individual style of each child.
Iceing On Top is proud to be at the vanguard of children's jewelry lines committed to socially-responsible and environmentally-friendly fine jewelry. "Iceing On Top incorporates eco-friendly values into every facet of their collection, from the product to the packaging." Its efforts are just the beginning at helping to increase awareness and build demand for widespread industry changes. ''It is our belief that if we are conscious in the decisions we make for ourselves and our children, we can collectively create a better world,'' says creators Shella Eckhouse and Chelsey Fields.
Following their hearts and their passion, savvy sophisticates and moms, Shella and Chelsey, joined together to create Iceing On Top, fine childrens jewelry. Inspired by their own children, the magical line of baubles is 'Iceing On Top' of your already-delicious little one! ''When our search for original and attractive childrens' jewelry gifts proved unsuccessful, we decided to start a unique and timeless line of our own,'' says the partners.
A certified gemologist and private jeweler, Shella Eckhouse has worked with the finest diamonds and gemstones for the past twelve years. After giving birth to her daughter, she noticed the absence of upscale jewelry for children in the market. Given this opportunity and both her jewelry background and love of dressing up her own daughter, she set out to create Iceing On Top, the first jewelry collection dedicated to children.
Chelsey Fields is an entrepreneur with a background in business planning and marketing. She spent several years in the financial world analyzing companies. Her love of travel has taken her all over the globe and has inspired her to create wearable pieces of art that are both practical and environmentally-responsible.
Sparkle and shine in the must have line of 2009, because everything is better with Iceing On Top!
About Iceing On Top:
Started in 2008, Iceing On Top, fine childrens jewelry, can be found in-stores and online. With its signature look of faceted shapes, the collection creates a unique look for children.
# # #