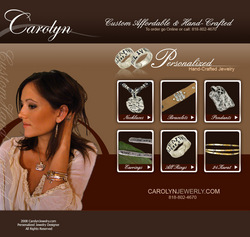 Los Angeles, CA (PRWEB) February 27, 2009
On June 23rd, 2005, Los Angeles Jewelry Designer Carolyn was assaulted in Downtown Los Angeles by a homeless man that left her nearly dead and permanently scarred for life. The homeless man, later sentenced to prison for attempted murder, broke her jaw, severely lacerated her face, and fractured her nose when he hit her with a two by four containing exposed rusted nails.
For a long time she was severely traumatized, not only physically but also emotionally & psychologically. But through this intense trauma, and the flaws that it created, she was able to reach deep down inside herself and find her true inner beauty; an inner beauty that is now reflected in her new line of jewelry.
Her jewelry pieces, like herself, are truly unique; they're not "perfect" looking pieces. They possess an almost artifact-like appearance and are inscribed with inspirational sayings such as "faith", "believe", "celebrate the day" and many others. They are truly adored by the hundreds of people that have purchased them (including such celebrities as Tyrese Gibson, Paula Abdul, Candy Finnigan, July Warner and others), and the thousands that have seen them.
Through desperation and a traumatic time, came inspiration, and now Carolyn is proud to introduce her celebrated line of inspirational jewelry to the world at http://www.carolynjewelry.com.
Contact:
Carolyn Kanaat
http://www.carolynjewelry.com
818-802-4670
###