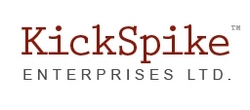 best idea since the sand wedge.
Vancouver, British Columbia (PRWEB) February 26, 2009
Jimmy Roberts of NBC Sports will have an exclusive interview with traction footwear pioneer, Darrell Bachmann of KickSpike™ Enterprises Ltd. on Saturday February 28, 2009. The interview, which will air during the World Golf Championships on NBC, will feature Bachmann and his groundbreaking new KickSpike Technology, which extends and retracts a replaceable metal spike from the sole of whatever footwear it's in.
In previous media appearances KickSpike Technology has created an enormous buzz in the golf industry prompting immediate positive feedback from USGA Greens Section who state, "I am 100% certain that the PGA tour will embrace this". Other supporters of the innovation include the Golf Course Superintendant's Association of America and the Western Canada Turf Grass Association.
KickSpike Enterprises Ltd., which has been dubbed future of Traction Footwear, has received accolades from various big names in golf including legendary golf instructor Dave Pelz, Golfweek.com, and David Leadbetter and the USGA; prompting comments stating, "Best idea ever seen in golf" and "This will change tournament golf forever," and "best idea since the sand wedge." KickSpike Technology has recently also been featured on a popular Canadian entrepreneurial television show titled The Dragons Den, where Bachmann's prototype earned rave reviews and prompted a bidding war among financiers.
Bachmann, a golf course superintendent by trade, states "Golfers will be able to wear spikes from tee to green, and slippers on the green, which in turn will save every golf course in the world $20,000 to $30,000 per year in fertilizer and fungicide costs, not to mention water."
The KickSpike Technology consists of a mechanical mechanism, which extends and retracts a metal spike from the sole of whatever footwear it's placed in. This motion enables individuals to deploy or retract the spikes quickly without bending over. Retracting the spikes cleans grass, dirt chunks and other foreign debris from the sole of the shoe. In the case of golf shoes, it allows the user to walk on the greens without doing any damage.
While the innovative design was inspired by golf, it is applicable to any situation where traction footwear is required on demand. Currently KickSpike Enterprises Ltd. has generated interest in several niches in the footwear industry, including the military and public service, golf/sport, health and safety, and outdoor lifestyle which includes hiking and climbing.
KickSpike Enterprises Ltd. are the developers of the world's first retractable metal spike golf shoe. KickSpike's revolutionary, patented Traction Technology can be applied to any footwear category where the wearer benefits from instant traction at the kick of a button.
For more information, please visit: http://www.kickspike.com
Media Contact:
Doug Morneau
media (at) kickspike (dot) com
1.888.810.4489 (Office)
1.888.430.4892 (Direct)
# # #