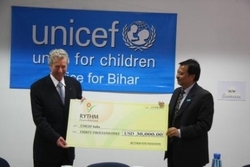 Bihar, India (PRWEB) February 27, 2009
The affect of devastating floods in 2008 in North Bihar (India) are still being felt today, almost six-months after flood waters ravaged the districts of Supaul, Saharsa, Araria, Madhepura and Purnia.
The resulting devastation led to the displacement of over 2.5 million people, as well as damage or destruction of essential infrastructure like roads, bridges, water supply systems and schools.
UNICEF, in view of the scale of the floods and over stretched national and state capacities, has been supporting the Government of Bihar and other civil bodies in emergency relief efforts and the rehabilitation of the affected populace in an attempt to restore stability to the affected region.
In keeping with its commitment to the flood-affected people, especially those living in marooned and/or difficult to access areas, UNICEF has made rehabilitation of flood-affected people a priority. UNICEF programmes, like Water and Sanitation, Child Protection, Child Development & Nutrition, HIV, Education, Health, Programme Communications and Advocacy & Partnerships are working in partnership with the Government of Bihar and other donors to rehabilitate people, especially those in marooned still flooded areas.
QuestNet and its Corporate Social Responsibility (CSR) arm RYTHM Foundation was established in 2005 to support the companies commitment to disaster mitigation, improving conditions for children, poverty elimination and a better environment across the globe. A shared concern for children, especially in the light of mass flooding in North Bihar, brings QuestNet, RYTHM and UNICEF to a shared common platform to support rehabilitation in the state.
RYTHM Foundation Trustee Mr Bernhard H. Mayer met with representatives of UNICEF Bihar office on Tuesday, 17 February 2009, to officially present a USD 30,000 donation to UNICEF in support of their various flood-related emergency programmes in the affected districts.
The cheque was presented by Mr Mayer in a simple ceremony to Mr Bijaya Rajbhandari, Chief, UNICEF Field Office, Patna.
Both Mr Mayer and Mr Rajbhandari also discussed potential future co-operations between the organisations in working towards similar relief and support programmes in the troubled state.
Please also find QuestNet's Press Release on UNICEF's website at: http://www.unicef.org/india/emergency_4835.htm
Company profile: QuestNet Ltd
QuestNet Ltd is an international direct sales company and network marketing business that recently celebrated its 10th Anniversary as a market innovator and leader in its field.
Operating a global sales force, QuestNet offers a high-quality product portfolio consisting of consumable and everyday products, brand-name items, luxury and collectibles, personal care and wellness products, vacation packages, and telecommunications.
The company also provides business opportunities to millions of people around the world by offering entrepreneurial aspirants the opportunity to run their own business through an e-commerce platform, while providing the Information Technology knowledge and business tools for these people to succeed. The company also educates various governments and populations of developing countries about computer usage, Internet connectivity and e-commerce.
For more information about QuestNet Ltd, please contact:
Adrian Pooley
Marketing Communications Manager - QuestNet
Direct Line: +66 2 207 3808
Email: adrian (at) quest (dot) net
http://www.quest.net
###