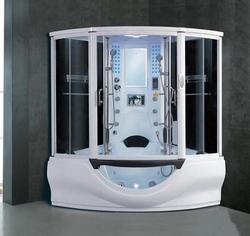 The Coolest Shower in America
Kansas City, MO (PRWEB) March 24, 2009
Luxury Steam Shower Seller MyBathUSA.com takes aim on the traditional bathroom shower. Promising to have "The Coolest Shower in America", MyBathUSA.com is giving homeowners a new spin on the traditional bathroom shower.
The new model release of their Rainforest 78 Steam Shower gives the traditional bathroom shower an extraordinary one of a kind spa, entertainment, and technological design lift. You may feel like you've entered an episode of the Jetsons when you first lay eyes on the Rainforest 78 Steam Shower. A whimsical thought at one time, the Rainforest 78 Steam Shower takes the traditional bathroom shower to a whole new level.
So what can you experience inside the Rainforest 78 Steam Shower?
Entertainment and Communication System: Waterproof LCD TV, High Quality Speaker System, Cable/Satellite/DVD/CD/MP3/MP4 Inputs, FM Radio and Digital Receiver for Traditional TV, Water-Resistant Remote Control, and a Hands-Free Telephone.
Healing and Wellness: 16 Jet Built-in Hot Tub, Steam Room, Acupressure Back and Body Jets for Head-to-Toe Massages, Foot Massage System, Aromatherapy/Medicines Steam Box, and Chromotherapy Mood Lighting
Relaxation: 3 Showerheads including Rainfall Style Ceiling Shower, Waterfall Inlet, and Headrests
Advanced Technology: Computerized Digital Controls with LCD Display, Underwater LED Light, Ozone Sterilization System which kills bacteria and germs after each use automatically, Fog Free Mirror, and Emergency Alarm
Solid Design: Aluminum Alloy Frame, Durable Fiberglass Reinforced Acrylic, Tempered Glass, Pedal Drain, and Hand Grips
There comes a time when traditional bathroom showers need to be replaced due to aging concerns like cracks, mold, plumbing, and other issues. The Rainforest 78 Steam Shower offers homeowners remodeling their bathrooms the coolest, stylish, and most mind-boggling shower technology they'll find. At just shy of $4,000 delivered anywhere in the continental USA and inexpensive to install, it can save homeowners thousands compared to a traditional bathroom shower remodel that comes with none of the advantages.
If you would like an interview, further information, or a studio interview with a Rainforest 78 Steam Shower demonstration, please contact us and visit our Press Room.
About MyBathUSA.com:
MyBathUSA.com also found at MyBath.biz, sells luxury Steam Showers with the latest design, technology, and comfort features. Since opening, MyBathUSA.com has helped thousands of customers update and modernize their bathroom showers. Customers can also update their homes with MyBathUSA.com FAR Infrared Saunas, Hot Tubs, Glass Sink Vanities, Whirlpool Bathtubs, Swim Spas, and more.
Bath Comfort of the Future, Today!
###