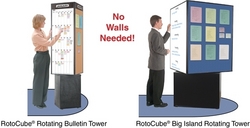 Our customers tell us that RotoCube® offers them a great way of displaying lots of information in a small area where there is no wall space available
Macedon, NY (Vocus) March 3, 2009
From factory production floors to hospital admitting rooms to lobbies in offices and hallways in schools, sharing information in common areas is key to educating people where people gather or pass by. Magnatag® Visible Systems RotoCube®, a patented rotating bulletin tower, displays a full 24 square feet of information, same as a 4' x 6' board, on just a 19" footprint. The larger Big Island Rotating Tower displays 42 square feet on a 34" diameter rotating space. With no need for wall space, the RotoCube® shows everyone what is happening 24/7.
The RotoCube® rotates quietly in either direction with a finger touch. An automotive parts manufacturer in Michigan uses its RotoCube® to post safety, productivity, quality, and performance metrics on the factory floor right in the work stations. An Iowa auto dealer tells us the RotoCube® is their "Silent Salesperson", silently displaying their credit policy on the showroom floor so visiting customers, after reading it, feel more comfortable talking to their leadership sales team. He also displays things on it to keep the kids busy while they talk to mom and dad.
"Our customers tell us that RotoCube® offers them a great way of displaying lots of information in a small area where there is no wall space available," reports Robert W. Mixon, Jr., Magnatag's President. "Everywhere people work, congregate or pass by, the RotoCube® grabs attention."
For more information, visit http://www.magnatag.com/RC
About Magnatag® Visible Systems Magnatag® Visible Systems, a division of W.A. Krapf, Inc., designs and manufactures over 2,300 steel whiteboard kits, maps and other information display systems. Magnatag is a veteran-owned family business in operation since 1967.
Contact:
Douglas R. Weeks
Magnatag Marketing Group
800 624 4154
Hi-res image available: http://www.magnatag.com/page/RC-MEDIA/
###