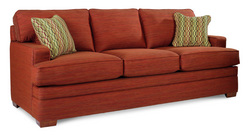 Our La-Z-Boy Premier line offers a wide variety of styles for our customers to choose from
Monroe, MI (PRWEB) March 2, 2009
Backs, seats and knees - be relieved. La-Z-Boy has reinvented comfort once again with a new line of stationary furniture with "high end" features, but not "high end" prices. This new furniture collection is designed to impress, allowing consumers to see and feel what makes this line of furniture La-Z-Boy® Premier.
The La-Z-Boy Premier stationary furniture collection debuts with several enhanced standard features, the most innovative of which is ComfortCore™ cushion technology. The cushion is designed with four different foam densities appropriately distributed to provide the best comfort and support level for different areas on the seat. The front of the seat features softer foam to relieve pressure from under the knees, while the cushion's rear has the heaviest and most firm foam to support centered weight. Next, a layer of high-comfort, lighter foam rests on the top and bottom of the cushion, creating an added layer of overall support for lasting comfort and durability. Finally, an outer layer provides additional softness that consumers will immediately feel when they sit down.
Adding even more opportunity for comfort and quality, styles in the Premier line can be upgraded to a ComfortCore™ Plus seat cushion, which features a zoned core and a feather-blend jacket.
"The La-Z-Boy Premier line is completely focused on our customer's comfort needs," said Paula Hoyas, vice president of upholstery merchandising. "With ComfortCore cushioning, our customers will feel more relaxed under the knees, and in the seat and back, providing a new level of support and ultimately leading to a more comfortable experience."
In addition to the ComfortCore cushion, the line's other new standard features include padding on the outer arms and back as well as accent pillows with down-proof ticking. Also, La-Z-Boy logo decking assures the consumer that they have purchased genuine La-Z-Boy furniture.
"Many customers looking for La-Z-Boy comfort are looking for a high-quality, more luxurious product to suit their lifestyle," said Doug Collier, chief marketing officer for La-Z-Boy. "Our Premier line with its ComfortCore technology will deliver comfort to those consumers craving the ultimate sitting experience."
The new La-Z-Boy Premier furniture line debuts with a variety of style options, including the #334 "Zoe," #499 "Pembroke" and #494 "Collins" sofa and sectional, and the #404 "Heath" and #804 "Helena" sofa. In addition, 14 existing La-Z-Boy styles also will become a part of the Premier collection.
"Our La-Z-Boy Premier line offers a wide variety of styles for our customers to choose from," said Hoyas. "Adding these high-end features to the world-famous La-Z-Boy comfort provides a line of furniture that is really a step up from some of the rest."
Consumers purchasing stationary furniture styles outside of the La-Z-Boy Premier line can upgrade to the innovative ComfortCore cushion technology as well.
The Premier line of furniture is available through La-Z-Boy Furniture Galleries®, La-Z-Boy Comfort StudiosSM dealers and anywhere genuine La-Z-Boy furniture is sold. Customers can visit http://www.lazboy.com to find the La-Z-Boy retailer nearest them. To view the La-Z-Boy Premier press release, spec sheet and images, visit http://www.attachmore.com/DownloadFile.aspx?ID=798852357.
About La-Z-Boy
Headquartered in Monroe, Mich., La-Z-Boy is North America's largest manufacturer of upholstered furniture and the world's leading producer of reclining chairs. The company manufactures a full line of comfortable products for the living room and family room, including the company's world-famous recliners, reclining sofas and love seats, sleep sofas, modular furniture and leather upholstery, as well as stationary sofas, love seats and chairs. It is a division of La-Z-Boy Incorporated (NYSE: LZB), one of the nation's largest furniture manufacturers and marketers. Comfort. It's what we do.SM
###