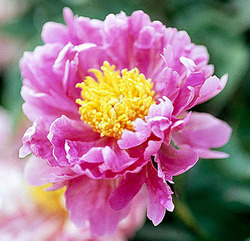 These elements are in addition to the dozens of free garden plans and videos, and hundreds of slide shows and stories on every aspect of gardening that we already provide
Des Moines, IA (PRWEB) March 2, 2009
Better Homes and Gardens magazine launched a new gardening channel on BHG.com, which features a Plant Encyclopedia, Garden Doctor, and other new elements. To celebrate the launch, BHG.com is holding a "Spring Awakening" online sweepstakes. One sweepstakes entry will win a Toyota Prius hybrid, approximate retail value $28,000.
Here are the major new elements of BHG.com's Gardening channel:

All-New Plant Encyclopedia is the most comprehensive list of plants on the Internet, and contains information and photos about hundreds of plants.
All-New Garden Doctor Q&A -- Users can ask questions of BHG.com's expert garden editors, and browse a database of answers to other users' questions.
Annual Flowers, Perennial Flowers, Bulbs, and Roses -- Discover the secrets to growing picture-perfect annuals, perennials, bulbs, or roses in your garden.
Landscaping Projects -- Enhance your landscape with a deck, patio, arbor, pergola, water garden, or other project.
Garden Plans - Use the 140 free garden plans to help you create a beautiful garden.
Outdoor Living -- The Decorating Gallery, an interactive companion to Better Homes and Gardens magazine now features a new Outdoor Living category, packed with 50+ gorgeous photos. BHG.com's partner, Edgenet, has placed hot-spots on the photos with product links to commerce sites in categories such as decking, outdoor appliances, and patio furniture.
My Gardening Notebook -- Users can assemble a notebook of favorite slideshows and plants from across the site.
BHG Garden Club -- The BHG Garden Club is an exclusive membership club from Better Homes and Gardens. It gives gardening information from our editorial team of experts. Along with all the membership benefits, our sponsors will be sending FREE samples and gardening products throughout the membership period.
All-new channel-wide design -- The design immerses users in a broad and deep gardening experience.
"These elements are in addition to the dozens of free garden plans and videos, and hundreds of slide shows and stories on every aspect of gardening that we already provide," says Justin W. Hancock, Senior Garden Editor of BHG.com and Better Homes and Gardens.
The Spring Awakening Prius Sweepstakes runs now until May 31, 2009. No purchase is necessary to enter or win, and visitors can enter daily. The Toyota Prius hybrid is being offered through Messina Wildlife, which manufactures Rabbit Stopper, Deer Stopper, Squirrel Stopper, and similar products.
About BHG.com
Developed by the experts at Better Homes and Gardens, BHG.com is the premiere home and family site on the Web, and the interactive companion to Better Homes and Gardens magazine. BHG.com is for people interested in turning home, cooking, and gardening inspiration into action.
BHG.com is focused on decorating, building and remodeling, crafts, entertaining, cooking, and gardening. It also has extensive information for women and families. In addition to providing useful tools and advice, BHG.com's trusted experts keep visitors informed on the latest developments and trends around home and garden. BHG.com was designed with real people in mind. It has easy-to-use interactive tools, clear visuals, step-by-step instructions, and money-saving suggestions. It makes life easier and more enjoyable.
###