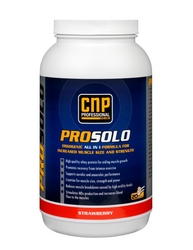 To train properly it's important to make sure the body gets the correct balance of nutrients to boost performance and aid recovery
(Vocus) March 2, 2009
To achieve peak performance and gain that competitive edge, a rigorous training programme alone is not enough. Sportspeople need to be able to push their body to its limits to get better results without injury. It's a challenge to both cardiovascular and muscular systems, and to keep the body in tip top condition most sportspeople take nutritional supplements.
For beginners, however, it can be difficult to sift through all the products on the market and select the best combination for their sport and training regime. CNP Professional, a company set up by sportspeople for sportspeople, has launched Pro Solo, an all-in-one ergogenic aid designed to take all the confusion out of selecting nutritional supplements. Pro Solo is a carefully formulated combination of ingredients that can assist in muscle growth, increase strength and improve endurance all in one product.
"To train properly it's important to make sure the body gets the correct balance of nutrients to boost performance and aid recovery," says Kerry Kayes, a former body building champion and founder of CNP. "When starting serious training programmes it's vital to prepare properly and provide the body with adequate nutrition to help your muscles recover and to prevent serious injury."
Pro Solo is designed to improve physical performance beyond normally achievable levels while enhancing responsiveness to training and accelerating recovery of tired muscles. It contains high quality whey protein to stimulate muscle protein synthesis and encourage muscle development.
The creatine in Pro Solo increases the power, strength and volume of muscle, while citrulline malate and arginine aspartate are added to stimulate NO2 production and increase blood flow to maintain muscle mass in stressed conditions. Other ingredients which increase performance and recovery include pine bark extract, magnesium orotate, beta-alanie, taurine, pantethine and dextrose.
Another plus for Pro Solo is that it's very easy to take - simply mix two scoops in 450ml of water. Only two servings are needed per day, one in the morning and one in the afternoon or after exercise. It is available in either chocolate-orange or strawberry flavour from CNP's website http://www.cnpprofessional.co.uk at a discounted price of £31.99.
CNP Professional is one of the UK's leading sports nutrition specialist companies. For more information visit http://www.cnpprofessional.co.uk, or call +44 (0) 161 320 1212 for sports nutrition advice and +44 (0) 161 320 8145 for sales.
Pro Solo.doc – March 09
Press enquiries: Toni Turner or Alison Haynes at The Publicity Works
Tel: +44 (0) 1263 761000 Email: cnp(at)publicityworks.biz
Paul Riley, Marketing Manager, CNP Professional: +44 (0)161 320 8145
Photography is available in a choice of formats on request from cnp(at)publicityworks.biz
Notes for editors
CNP Professional is a leading supplier of sports nutrition supplements ranging from protein shakes, protein bars, creatine supplements, meal replacements, mass gainers, weight loss supplements and post work out shakes all designed for the ultimate in sports nutrition.
Kerry Kayes, the founder of CNP Professional is a former national bodybuilding champion. He has been involved in sports nutrition for many years and his dietary expertise has established him as 'the man in the know' to sportspeople worldwide ranging from the Ericsson Round the World Yacht Team, boxer Ricky Hatton, dart's champion Phil 'The Power' Taylor, international strongman Glen Ross and Sean Long of St Helen's RLFC.
CNP Professional supplements are carefully formulated to ensure that the body is able to make best use of the nutrients. Unlike many nutritional supplements, CNP Professional's products are easy to drink.
There are several articles explaining protein nutrition supplements on the CNP website - go to the home page and click on 'nutrition' under the articles section.
SUPPLEMENT FACTS
Per serving:
whey 25g, dextrose 20g, creatine monohydrate
4.5g, citrulline malate 3g, arginine aspartate 2g, beta
alanine 1.5g, magnesium orotate 1.5g, taurine 1g,
pantethine 150mg, pine bark extract 40mg.
Ingredients:
whey protein concentrate/whey protein isolate blend,
dextrose, cocoa powder, creatine monohydrate, citrulline
malate, chocolate orange flavour, arginine aspartate,
magnesium orotate, beta alanine, xanthan gum
(stabiliser), taurine, pantethine, sucralose (sweetener),
pine bark extract.
Contents may settle during transit.
Suitable for vegetarians, vegans and gluten free.
Allergens : Contains milk
###