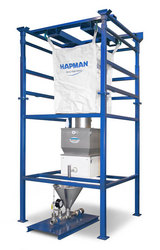 Kalamazoo, Mich. (PRWEB) March 4, 2009
Combine powder and bulk soids with liquids with the new Hapman SolidQuid to obtain a premixed slurry. Hapman's SolidQuid™ Conveyor system ties directly into existing plumbing and meters in precise amounts of powders / bulk solids. This pre-existing motive liquid flow becomes the vehicle which transports dry solids, as a pre-blended slurry, reducing mixing time and increasing the efficiency of the end blending process. This unique Hapman SolidQuid™ method of delivery prevents clumping, reduces mixing time, dusting, energy consumption and increases total process efficiency.
With no mechanical conveyors necessary, a processing companies plant layout considerations can be quickly accommodated by simple adjustments to the liquid flow pipe runs, which are involved in the normal adding, mixing or blending process. Metered accuracy of product is assured through the use of a Hapman PosiPortion™ feeder. A Hapman Bulk Bag Unloader, further increases efficiency by allowing longer, uninterrupted production runs.
If the large volume, Bulk Bag unloading aspect of the system proves to be unnecessary, a SolidQuid™ can also be fed by existing production equipment, a Hapman Bag Dump Station or one of Hapmans three conveyor choices. These conveyors include the Helix™ Flexible Screw Conveyor, the Tubular Drag conveyor or the MiniVac™ Pneumatic conveyor. Hapman performs performance testing, in its lab, on material to be processed, to further assure desired results. Hapman equipment and systems all come with the Hapman exclusive Performantee.
###