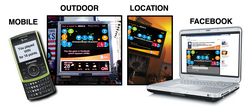 Cambridge, MA (Vocus) March 3, 2009
Cambridge, MA -– LocaModa, a leading interactive Digital Out of Home (DOOH) company, has won a top industry award at the annual Digital Signage Expo in Las Vegas for its popular cross-channel word game, Jumbli. A panel comprised of consumers and independent industry experts chose the award winners from a field of 78 entrants.
Jumbli is the first game in the world played via mobile phones on interactive digital signage in thousands of US locations (including Times Square), on the Jumbli website, via the Jumbli Facebook application, or embedded in affiliated partner or advertiser websites.
Stephen Randall, LocaModa's CEO, commented, "We're delighted to have received this award. It's even more gratifying that a panel of consumers and respected digital media and industry leaders selected LocaModa. At such a challenging time for interactive digital media, there is a groundswell of opinion that networks cannot compete or attract media dollars without the type of cross-channel engagement, measurement and interactivity that our platform offers."
LocaModa's platform tracks user engagement across the web, mobile and Digital Out of Home networks. LocaModa recently released engagement data spotlighting encouraging trends for the DOOH industry and network partners.
About LocaModa
LocaModa provides the leading Digital Out of Home (DOOH) distribution platform for interactive digital media. LocaModa's provides the only cross channel platform to connect DOOH, web and mobile networks. The company's patented technology is used in thousands of locations and by many of the leading operators of DOOH networks (including screen networks in cafes, bars, colleges, restaurants, retail locations, jukeboxes and public digital billboards), enabling highly localized, targeted, contextual and relevant interactive advertising and entertainment.
Audiences of LocaModa powered networks can interact in real-time with specific screens via mobile phone or web, dramatically improving value for network owners and brands by increasing attention, engagement and measurability. LocaModa was the first company to connect user-generated social feeds (such as Facebook and Twitter) to DOOH screens.
LocaModa, Inc. is a privately held company, incorporated in Delaware, headquartered in Massachusetts and founded by Stephen Randall, a former EVP/Founder of Symbian. True to its global vision, LocaModa is internationally backed by Dace Ventures in USA, Mahindra Group in India and Sumitomo Corporation of Japan, via its US-based strategic investing arm, PresidioSTX.
Visit http://www.locamoda.com for more information or contact sales @ locamoda.com.
###