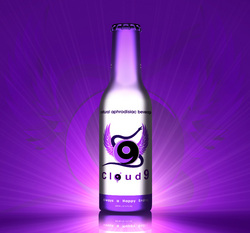 It's the new Natural Aphrodisiac that not only tastes incredible by itself, but also makes alcohol taste good
Los Angeles, CA (PRWEB) March 3, 2009

It's 1 a.m. and another wild night out in Hollywood; the clubs are packed, the music is pounding, only one thing is different this time, the bar is covered with 10oz purple and pink cans that read Cloud 9 aphrodisiac drink- always a happy ending. "It's the new Natural Aphrodisiac that not only tastes incredible by itself, but also makes alcohol taste good," says Mandy Whitteraf, sipping on some patron and cloud 9. "This stuff really works, it's a sensual mood enhancer, and it kind of leaves you with a good buzz feeling and gives you energy."
The stylish beer bottle looking can has a C and 9 intersecting into one another with a pair of wings and a snake wrapped around it. The drink has a light hot pink color to it, and is sweet. It tastes like a mix of berries and pomegranate. The ingredients are composed of all natural herbs known to stimulate the senses. Among these ingredients are Horny Goat Weed and Yohimbe. Moreover, Dejant corp. is also very in touch with the environment, since their Cloud 9 drinks can is 100% recyclable and made from recycled material.
The only question is, why DeJant has not allowed for the Cloud9 Beverage to come out to the general public yet? The bartender from a high-end Hollywood club claims that the drink is selling right off the shelves yet they can't get their hands on more. "They give us a limited amount, and when we want more they say you have to wait." As one logs onto DeJant Group Corp.'s website, http://www.DrinkCloud9.com, they are required to have a special access code in order to get in touch with the company. Cloud9 Drink is only available in clubs and bars that are "qualified." The interesting thing is that many hotels are working to bring Cloud 9 into their mini bars, inside the rooms. DeJant Group Corp., now home to Cloud 9 drink, is known for its unique marketing and advertising strategies, and is on the verge of releasing another astonishing product that has gotten Hollywood's attention before its public release in July.
Contact:
Cloud9 Drink Natural Aphrodisiac
Avi Gabbay, Director of Public Relations
DeJant Group Corp.
888.DeJant.9
http://www.DrinkCloud9.com
###