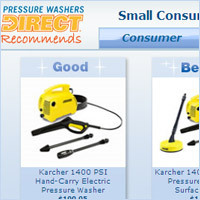 Bolingbrook, IL (PRWEB) March 4, 2009
PressureWashersDirect.com sold by PressureWashersDirect.com were given their prestigious "Recommended" status.
Good: Karcher 1400 PSI Hand-Carry Electric Pressure Washer
Better: Karcher 1400 PSI Electric Pressure Washer w/ Surface Cleaner
Best: Powerwasher 1600 PSI Electric Pressure Washer
In addition, the expert staff personally wrote online reviews for each small electric power washers, explaining why the company recommended it.
By providing the recommendations and reviews, PressureWashersDirect.com hopes to arm shoppers with enough ammunition to pick the perfect small electric pressure washers for their needs.
Power Equipment Direct operates nine niche online superstores. In addition to PressureWashersDirect.com, the Bolingbrook, IL-based company operates AirCompressorsDirect.com, ElectricGeneratorsDirect.com, SnowBlowersDirect.com, MowersDirect.com, WaterPumpsDirect.com, SumpPumpsDirect.com, ChainSawsDirect.com and LogSplittersDirect.com
###