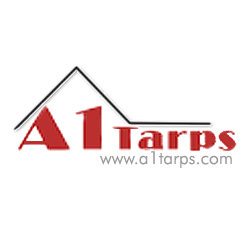 Los Angeles, CA (PRWEB) March 4, 2009
A1 Tarps, a leading manufacturer and supplier of durable tarps and tarp accessories, announces the launch of their re-designed web site and the news that the site will be fully operational 24 hours per day for ordering, questions, feedback, and customer support. Specializing in custom poly tarps, car covers, portable garages, commercial and residential party tents, and a wide variety of canopies and pop-up tents, A1 Tarps has every type of tarp for all outdoor needs.
Staying at the forefront of technology and web development, A1 Tarps recently re-designed its popular website to keep pace with increasing demand for tarps and tarp accessories. Uncertain weather patterns, high costs of contracted roofing work, and the ongoing recession have all combined to force homeowners and construction companies to seek out alternative solutions for shelter, repair materials, and preventive safety measures. Poly tarps are becoming much more popular, as durable tarps are cost effective, easy to use and store, and reliable. Many homeowners bitten by the mortgage crunch are relying on heavy-duty poly tarps to act as temporary solutions for damaged roofs, car and vehicle storage, and other outdoor shelter needs. Because of this, A1 Tarps is poised to become a major destination website for people and businesses looking to cut costs and still provide high-quality protection from rain, wind, snow, and even natural disasters.
The new A1 Tarps site includes a dynamic redesign, added features, and 24-hour customer support. The site now allows payment through PayPal and better shipping options including UPS and Con-Way Freight for reliable and fast delivery. A1 is also now offering container pricing for commercial orders. The easy-to-navigate site features full-color photos of all their products with detailed information and specifications, as well as related products and accessories, to give customers the best options when shopping for tarps. In addition, for fire retardant tarps, A1 guarantees the lowest price on all fire retardant tarps certified by the State of California Fire Marshal. As brush fires continue to wreak havoc in many areas of the country, be prepared with heavy-duty fire retardant tarps to protect valuable equipment, vehicles, and machinery.
A1 Tarps offers a safe and secure website that is scanned regularly using state-of-the-art technology and features many heavy-duty, high-quality tarps and tarp accessories for performing basic roofing repairs and providing sturdy outdoor cover and other types of protection. A1 Tarps has over 25 years of experience in the manufacturing of tarps, tents, and canopies.
###