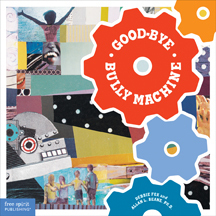 A bully can learn to stop acting like a bully
Minneapolis, MN (Vocus) March 4, 2009
Parents, teachers, and other caring adults believe that kids deserve to feel safe, secure, accepted, and valued, whether at home or at school. Yet every day too many kids are being teased, called names, harassed, or threatened--or worse. To the kids being bullied, it can feel like a powerful machine has taken control of their lives: the Bully Machine.
GOOD-BYE BULLY MACHINE by Debbie Fox and Allan L. Beane, Ph.D., (Free Spirit Publishing, $6.99 softcover, $12.99 hardcover) was written to teach kids ages 8 and up what bullying is, why it hurts, and what they can do to put a stop to it. Part of the Bully Free Classroom™ line of resources, GOOD-BYE BULLY MACHINE engages kids with clear messages and unique collage art.
The book opens with a note to grown-ups encouraging them to share it with the kids in their lives and to talk with them about bullying, taking their fears and reports of bullying seriously. The authors know that kids who are victims need to be heard and supported to stop the Bully Machine.
A note to kids explains at the outset that bullying is a way of treating people that is hurtful, but that people who bully are not "bad" people: their behavior is bad. "A bully can learn to stop acting like a bully," Fox and Beane explain. "With help, they can find better ways to act around others." Instead of calling someone a bully, kids are encouraged to make good choices, to include others, and to report behavior that is hurtful or mean.
Through GOOD-BYE BULLY MACHINE, kids gain awareness of their role in bullying, whether they are targets, bullies, bystanders--or all three. According to the authors, the role of the bystander is especially important. Part of the message in GOOD-BYE BULLY MACHINE is the power of the bystander to become an ally by speaking up and standing up for others.
Fox and Beane explain why they wrote GOOD-BYE BULLY MACHINE: "We want to help kids and grown-ups understand how bullying can start, how it can grow, and how, if we act together, we can make it far less common than it is."
Bully-Busting Activities at the back of the book show how victims, witnesses, and kids who've bullied others can become Bully Free--including suggestions for building a schoolwide campaign against bullying.
"Indispensable. . . . A constructive resource for empowering kids to end bullying."--Jacqueline Golding, Ph.D., author of Healing Stories
"This book offers a message that kids need to know."--Andrea Meiners, 6th grader, Maryland
About the Authors:
Debbie Fox is an elementary school arts and literacy educator and has created innovative, award-winning programs for children. A graduate of the Ontario College of Art in Toronto, Canada, Debbie is passionate about giving young people creative opportunities to express themselves. She and her husband live in Florida, close to their grown children. She has written two guidebooks for kids about her favorite state.
Allan L. Beane, Ph.D., is an internationally recognized expert on the topic of bullying. He has over 30 years' experience in education that include teaching special and regular education, directing a school safety center, and serving as vice president of Academic Affairs at Mid-Continent College. Author of the Bully Free® program, Allan has trained staff in many schools on bullying and has served as an expert witness in criminal cases involving student mistreatment.
###