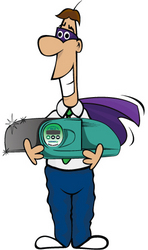 With the economy continuing to slow, and the budget cuts growing, this is the exact remedy that schools are seeking.
Los Angeles, Calif. (Vocus) March 4, 2009
Apperson Education Products, a leading provider of test scoring solutions, announced the launch of their new GradeMaster Solo (GM Solo) Loaner Replacement Program. This program is intended to replace Scantron™ and NCS/Pearson™ loaners with a brand new GradeMaster™ Solo test scoring machine. By switching to Apperson's GM Solo, schools will save valuable budget dollars as forms are almost half the cost, and there is no obligation to purchase a minimum amount of forms.
"For years customers have been our best source of new business as they talk about our products and cost savings to neighboring schools and districts," said Bill Apperson, CEO of Apperson Education Products. "With our new GM Solo Loaner Replacement Program we really have some exciting news for them to share. Many schools have been locked into our competitors' loaner programs and are required to pay unreasonable prices for answer sheets. They can now replace their old test scoring machine with our new GM Solo and begin saving over 40% immediately."
Apperson designed a special machine for this program and named it the GradeMaster™ Solo. The Solo is a stand-alone test scoring machine that operates identically to the loaners currently on the market; only it's newer, faster, and quieter.
But the core reason for replacing the old scanner with the new GM Solo is the fact that forms are almost half the price and there is no minimum purchase requirement. By removing this obligation, schools can order only what they need and forget the minimum annual purchase requirement. Schools can purchase twice the number of forms and pay the same dollar amount, they can buy the same number of forms and spend half as much, or if they have always had trouble meeting their loan program's obligations, they will be at ease knowing they can purchase only the number of forms they need, not the dollar amount required.
"This program could not have surfaced at a more perfect time," said Abel Garcia, Vice President of Marketing for Apperson. "With the economy continuing to slow, and the budget cuts growing, this is the exact remedy that schools are seeking."
Each school that's interested in the program will be able to try out the new Solo machine for 30 days before committing to keeping it and going through the simple replacement process.
"Based on the initial response to the program, I believe we have a very compelling reason to replace each school's old scanners," concluded Apperson.
Established in 1955, Apperson enables education, corporate, and government organizations to quickly capture the data and information they need to accurately assess performance and measure success. For more information, please call 800.827.9219 or visit their website at http://www.gmsolo.com.
###