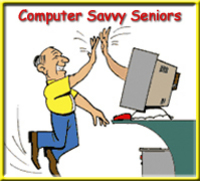 Without the help of my computer, life would certainly be a boring situation
Carrollton, TX (PRWEB) March 5, 2009
Computersavvyseniors.blogspot.com is now the home to a blog featuring commentary and information relevant to Baby Boomers and Seniors. The newly launched blog is testament to the fact that seniors are fully embracing - and actively participating in - the Internet age.
Since launching last April, Computer School for Seniors, a Carrollton, Texas-based online school for seniors, has been developing tools specific to helping seniors learn how to use the computer and the Internet. The senior-focused blog is the latest in a suite of resources.
The Blog will be updated daily by Computer School for Seniors faculty members and will cover topics ranging from computer tips to photography tricks to inspirational thoughts. In addition, the Blog will serve as a forum to feature different seniors - the most recent one being Paul Yowell from Longview, TX who was among the first to enroll in the School last April. "Without the help of my computer, life would certainly be a boring situation," says Yowell. "I had to give up golf and fishing. But I still have my computer to brighten every day. At 83, I'm a 15% computer geek."
"We are proud of the progress our students are making on our Internet Campus at Computer School for Seniors," said Blog and Computer School for Seniors co-founder Mimi Witcher. "We wanted to find a way to feature their work and brag about their newly found computer and Internet knowledge. Creating a Blog that is compatible with our Internet computer school was the perfect answer."
About Computer School for Seniors: Computer School for Seniors is the brainchild of 65-year-old Mimi Witcher who has been teaching computer classes to seniors for the past eight years at Richland College in Dallas, TX. At the request of a 90-year-old student who could no longer attend classes due to health and financial reasons, Witcher decided to expand her teaching online. That decision resulted in an expansive virtual campus featuring a variety of departments ranging from a Computer Learning Center to a Travel Center. Since launching last April, Computer School for Seniors has attracted hundreds of students with students enrolling from as far away as Greece, Australia and France. For more information about Computer School for Seniors or to tour the campus, visit http://www.cs4seniors.com.
###