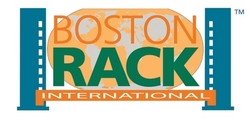 Timing was very important to us, due to both our strengths exhibited in a declining market
North Easton, MA (PRWEB) March 10, 2009
Boston Rack International, Inc.(http://www.bostonrack.com), a global leader in integration of material handling equipment solutions, is joining forces with storage solutions expert BASE Manufacturing to become the nation's first full-service integrator and warehouse storage solutions manufacturer to provide customers with a host of services currently not offered by any other company.
"By merging with Base Manufacturing we will be able to provide our customers the quality, efficiency, and depth of products that our competitors are not able to offer," Peter Murphy, Boston Rack International's founder and President/CEO, said.
The merger comes as the result of months of collaboration between Murphy and BASE President/CEO Steve South. Murphy had long believed that combining Boston Rack with a manufacturer would be of great strategic value to the company and, more importantly, to its loyal customers. In BASE manufacturing, he found the competitive labor force, the strong management team and the first class manufacturer that can produce both roll-form and structural storage solutions.
Both company executives anticipate substantial advantages and benefits stemming from the merger.
"This advantage provides us with very competitive products and pricing to our customer base. Steve has expanded his facilities recently, which give us the capacity we need for the future," Murphy said.
In addition to enhance customer service, the merger will provide both companies a larger sales force and network of resources, and a greater reach into the warehouse material handling industry which would otherwise be harder to attain.
"Timing was very important to us, due to both our strengths exhibited in a declining market," South said. "We felt the new combination would offer the industry a value that exceeds all others. In today's market, only the strong survive."
Following the merger, Boston Rack and BASE will operate as subsidiaries of a holding company, Elite Storage Solutions, in order to continue to take advantage of brand identities within their marketplaces.
About Boston Rack (http://www.bostonrack.com/About/Default.aspx )
Boston Rack International, Inc. has been an expert provider of warehouse storage solutions for 10 years, with a sales force covering the U.S., Canada, Mexico, Latin American and Europe. To learn more about Boston Rack's warehouse storage solutions, visit (http://bostonrack.com/OurProducts/WarehouseStorage.aspx/ ) or call (508) 230-5755.
About BASE Manufacturing
With nearly two decades of experience in the material handling equipment industry, BASE Manufacturing is a full-service manufacturer of superior quality roll-form and structural storage products. The company located just Northeast of Atlanta in Monroe, GA, serves all storage needs from its more than 350,000 square feet of high-tech manufacturing space. For more information, visit http://www.basemfg.com or call (770) 207-0002.
Media Inquiries:
Asha Shamdasani
Marketing Coordinator
ashamdasani(at)bostonrack.com
(508) 230-5755, ext. 229
###