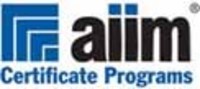 Most business records are now born digital and the exponentially increasing volume and types place a huge challenge for organizations.
Silver Spring, MD (Vocus) March 4, 2009
"Organizations are drowning in electronic information such as emails, office documents, instant messaging, images and blogs, and mismanagement of business information can seriously damage organizations but also careers," states John Mancini, President of AIIM, a non-profit association for information management. "Most business records are now born digital and the exponentially increasing volume and types place a huge challenge for organizations."
Mancini recommends executives to ask the following 3 questions to identify their confidence in electronic records:

Has your ability to document what your organization did, why you did it, who did it, and when they did it gotten better or worse in the past 5 years?
Is your organization able to handle the explosion of digital information and records, or does the continuing influx of information make your organization less and less effective?
Can your executives, staff, and legal counsel find electronic records when they need it? In the daily course of business, as well as when an emergency or more urgent event occurs?
"Increasing awareness is one key reason why AIIM has introduced online and classroom training programs covering how to identify and manage electronic records," states Bob Larrivee, Director, of AIIM. "Close to 10,000 IT, business and information managers have attended the AIIM Certificate programs over the last 3 years, and AIIM's introduction of a new and improved AIIM Electronic Records Management (ERM) Certificate Program incorporates timely and emerging best practices and technologies for managing electronic records. More than 50% of the program content has been changed or improved based on feedback from AIIM's Education Advisory Groups."
According to Larrivee, "Students, who have completed the ERM program prior to now, should consider taking this updated version to enhance their skills and strengthen what they learned in the prior course."
The new and improved ERM Certificate Program covers:
SharePoint, ECM, and ERM solutions for managing electronic records
Retention schedule and disposition
Metadata model, classification scheme and access control
Digital preservation techniques
Global best practices for implementation ERM
Email capture and retention
Impact of new content types such as wikis and blogs
The newly revised ERM Certificate Program is available at the Practitioner and Specialist levels to students through instructor led classroom sessions and on-line at http://www.aiim.org.training. The Masters program is available through instructor led classroom sessions only. Those wishing to inquire about private classes can contact AIIM directly.
About AIIM
AIIM (http://www.aiim.org) is the community that provides education, research, and best practices to help organizations find, control, and optimize their information. The AIIM community has grown to over 65,000 professionals from all industries and government, in over 150 unique countries, and within all levels of management including senior executives, line-of-business, and IT.
For over 60 years, AIIM has been the leading non-profit organization focused on helping users to understand the challenges associated with managing documents, content, records, and business processes. Today, AIIM is international in scope, independent, implementation-focused, and, as the representative of the entire enterprise content management (ECM) industry -- including users, suppliers, and the channel -- acts as the industry's intermediary.
Subscribe to AIIM RSS feeds at http://www.aiim.org/feeds
Subscribe to industry press release feeds at http://www.aiim.org/ResourceCenter/RSSFeed.aspx?Type=PRESSRELEASES
For more information, contact:
Beth Mayhew
Director
301.755.2681
bmayhew (at) aiim.org
###