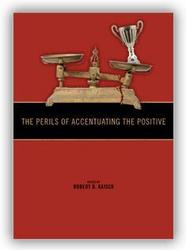 It's a mistake to try to fix weaknesses; instead, play to your strengths
Tulsa, OK (PRWEB) March 5, 2009
HoganPress is pleased to announce the publication of The Perils of Accentuating the Positive, the latest book from Robert B. Kaiser of Kaplan Devries Inc.
This groundbreaking new work assembles a dream team of thought leaders in the field of management development to critically evaluate admonishments from "gurus" to managers to stop dwelling on their weaknesses and instead focus on their strengths. The book includes ten chapters that draw on decades of research and years of experience coaching, consulting, and conducting development programs for managers and executives. Together, respected authorities like Bob Eichinger, Morgan McCall, Bob Kaplan, Steven Berglas, Robert Hogan, and Randy White and others explain the rest of what you need to know about strengths-based development.
From the back cover:
"It's a mistake to try to fix weaknesses; instead, play to your strengths" goes the thinking behind a popular movement in management development. But there are certain half-truths and hidden dangers in this seductively appealing philosophy. This edited volume features a collection of chapters from pioneers who helped create the modern field of development to explain these concerns and provide sound advice for capitalizing on strengths—without resorting to hyped-up, dumbed-down, or naïvely simplistic prescriptions.
You will learn that:

Most managers don't have the leadership strengths their companies need to be competitive
Mastering the art of leadership requires learning to do what may not come naturally
A focus on strengths can promote stagnation and inhibit learning and development
Strengths can, ironically, become weaknesses through overuse and overreliance
Ignoring weaknesses is a fatal strategy for managing careers and managing talent
You can reap the benefits of talented-but-troubling managers while containing their dark sides
Written for HR and T&D professionals, executive coaches, and managers themselves, this book promises no quick fixes, no silver bullets, and no easy roads to success. Instead, it offers balanced judgment along with research-based strategies and road-tested techniques that can help managers truly become stronger leaders.
The Perils of Accentuating the Positive will be available for sales and distribution in March 2009, in cooperation with the Center for Creative Leadership. The cover price will be $29.95.
Robert B. Kaiser is a partner with the executive development consultancy, Kaplan DeVries Inc., and was previously at the Center for Creative Leadership. He has over 100 publications and presentations on leadership, development, and performance measurement. Kaiser also has a consulting practice, specializing in executive coaching and talent management. He has an M.S. in Industrial/Organizational Psychology from Illinois State University and is based in Greensboro, NC.
For further information, please contact:
Natalie Tracy
HoganPress, Inc.
2622 E. 21st Street
Tulsa, OK 74114
800.756.0632
918.749.0632
ntracy (at) hoganassessments.com
http://www.hoganpress.com
This press release was distributed through eMediawire by Human Resources Marketer (HR Marketer: http://www.HRmarketer.com) on behalf of the company listed above.
###