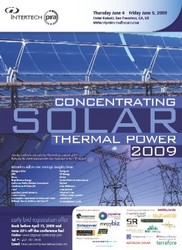 2009 will certainly be an interesting time for the renewable sector, said Conference Producer Christopher Smith.
Portland, ME (PRWEB) March 5, 2009
The concentrating solar power sector is set for tremendous growth. Primary forces that are establishing concentrating solar thermal power as an attractive renewable energy resource include 70% growth of total energy demand by 2025, high state renewable portfolio standards and goals, which require that a portion of total energy generated be derived from renewable resources such as hydro, solar, and wind, and requirements among states and electric utilities for cost-effective and efficient renewable energy resources. While many concentrating solar thermal technologies have been proven and available for years, escalating prices of oil and gas-derived energy resources are making concentrating solar thermal power cost competitive. Although concentrating solar power is approaching price parity with traditional energy sources, there are many technical, financial, and regulatory challenges that are limiting growth, especially issues pertaining to transmission, site planning and acquisition, funding and investment, energy storage, and other technical challenges.
Following the 4th annual Photovoltaics Summit and Co-Chaired by Rainer Aringhoff, President of Solar Millennium and Fred Morse, Senior Advisor for US Operations of Abengoa Solar, this year's program will address the current issues in the utility scale solar arena. Speakers from Abengoa Solar, APS, Ausra, BrightSource Energy, California Public Utilities Commission, Chadbourne & Parke LLP, Ceert, Emerging Energy Research, Ernst & Young, Los Angeles Department of Water and Power, Milbank, Tweed, Hadley & McCloy LLP, Navigant, NV Energy, Orrick, Sandia National Laboratories, Skyfuel, Solar Millenium, SolarReserve, Starpoint Solar, Stirling Energy Systems, Terrafore Inc and US Renewables Group will present the latest in market trends and developments, financing and funding as well as updates and insights on technical and systems developments. Additional topics to be discussed include transmission and onsite planning.
"2009 will certainly be an interesting time for the renewable sector, said Conference Producer Christopher Smith. "This conference, in conjunction with Photovoltaics Summit 2009, is a great opportunity for the entire industry to collaborate, strengthen relationships and meet the substantial renewable energy demands that are expected."
Various pricing options are available. For complete program details, please visit:
http://www.cstpower-conference.com.
About IntertechPira
IntertechPira provides events, training, online information and publications across a wide range of contemporary issues and technologies affecting industry. Our 100% independent products are provided globally 24/7 and delivered by teams of independent experts at sites in Portland, ME, US and London, UK through 20 specialized industrial platforms. Our core competencies are information on: research and product development, globalization and new markets; production methods; regulatory and compliance.
###