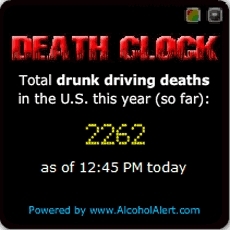 I placed 15 of these machines in a town of only 200,000 people.
Scottsdale, AZ (PRWEB) March 9, 2009
The National Highway Traffic Safety Administration (NHTSA) reports that, on average, someone is killed by a drunk driver every 40 minutes. A new computer widget is shedding light on that startling statistic. AlcoholAlert.com, a manufacturer of drunk driving/alcohol breathalyzers, has just announced that its frequently accessed Death Clock is now available for download and sharing on personal and business Web sites, blogs and social networking pages. Individuals who would like to illuminate the ongoing havoc drunk driving wreaks on society can download the portable Death Clock widget online at AlcoholAlert.com.
According to the Centers for Disease Control, the year 1982 saw 25,165 drunk driving casualties. That was the first year such statistics were compiled, and the figure represented an all-time high for such deaths. NHTSA statistics further reveal that "in 2007, an estimated 12,998 people died in drunk driving related crashes." That's still a staggering number despite the noticeable decrease over time. When it comes to the victims and their families just a single death at the hands of an inebriated driver is one too many. The myriad heart-breaking Drunk Driving Memorial pages created by victims' loved ones on AlcoholAlert.com attest to that fact.
The sad part about this sobering situation is that many of the intoxicated drivers who wind up taking a life had no idea their blood alcohol levels exceeded the legal limit. The scene repeats itself at alcohol-serving establishments across the country. The bartender asks a patron who's quite possibly had one too many drinks to hand over his or her keys and wait for a cab to be called. The customer blows off the offer, insisting he or she is fine to get behind the wheel. Minutes later, another casualty is added to the Death Clock toll. Alas, a little eye-opening proof of non-sobriety might very well have prevented the tragedy.
Developed by KeRo, LLC, the Alcohol Alert breathalyzer aims to provide just that. The vending machine accurately tests breath alcohol content to alert impairment and prevent possible drunk driving, thereby sparing unsuspecting victims of its deadly effects. Police-tested and enhanced, this coin/dollar bill-operated talking vending machine can easily be installed anywhere alcohol is served or consumed. In combination with the company's new Death Clock, the breathalyzer opens people's eyes to the devastating consequences of drinking and driving.
When Jim Thompson put the Alcohol Alert breathalyzers to the test in Lubbock, Texas, a few years back, the results surprised him. "I placed 15 of these machines in a town of only 200,000 people." Over a three-month test period, "This initial study has shown a decrease of seven percent in alcohol-related traffic accidents after the introduction of the machines. There were no other police or private campaigns run during the same time period that could account for the drop. Thus, it can be safely assumed that the machines played a large role in that reduction."
To obtain your own copy of the Death Clock widget and to learn more about the Alcohol Alert breathalyzer machines, visit Alcohol Alert online at http://www.AlcoholAlert.com.
###