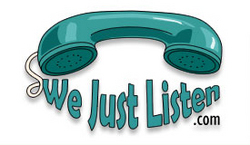 We know that sometimes all you need is to talk. Our job? We Just Listen!
Atlanta, GA (PRWEB) March 17, 2009
The stock market is in the tank … the economy is in shambles ... life just isn't all it could be …. These are common phrases that many people today are expressing, but words not everyone may want to hear. Now, people looking to talk, vent or just share their mindset can connect with someone who is always ready to listen, with the launch of We Just Listen, a low-cost 24/7 service where callers can connect with an individual who is willing to offer a confidential, nonjudgmental and supportive ear.
"I've found that needing to talk and not being able to has been a major source of frustration in my life. It was out of this frustration that the vision for We Just Listen was born," says Robert Connerley, founder of We Just Listen. "We Just Listen is designed to be a service where people just like you and me can share our issues and feelings openly and without fear of judgment. We Just Listen offers something that can't always be attained from a friend or a loved one -- the opportunity to speak frankly and openly to an unbiased, empathetic listener."
We Just Listen provides anyone the opportunity to get anything off their chest, without fear of judgment, debate or opinion for only $1 per minute. All We Just Listen conversations are initiated by the caller and can be about anything that happens to be on the caller's mind. Whether callers want to talk about current events, personal problems or any aspect of day-to-day life, We Just Listen is always there to hear them out.
We Just Listen is not a counseling service. Listeners will be professional and caring during the duration of the call, and strictly offer an empathetic, supportive ear for callers to voice their thoughts.
Available 24 hours a day, seven days a week, We Just Listen's listening service is completely anonymous, and any personal information is safe and secure on the company's dedicated server. Users of the service must create an account. With a registered phone number, users simply dial in from the number, enter their PIN, and are automatically connected to a listener. This convenience allows We Just Listen users to connect with willing and caring listeners from any location or situation at any time.
"We know that sometimes all you need is to talk. Our job? We Just Listen!" Connerley says.
For more information about We Just Listen, visit http://www.wejustlisten.com.
###