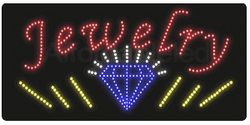 Rowland Heights, CA (PRWEB) March 12, 2009
Attractive colors that come to life and move to a certain beat are a sure way to draw customers and patrons to businesses who cater to consumers needs such as restaurants, coffee shops, and even convenient stores . Though the nation is in an economic crunch this year, led signs will surely help attract more consumers and inform them of what establishments can offer. It's an investment no establishment should pass up on.
With the help of online wholesaler AffordableLed.Com, enterprises are assured of additional income because of the lowest prices of led signs Affordable Led offers. This month of March, the led signs and open signs distributor takes off as much as $60.00 on led signs, with prices ranging from as low as $129.00 to only $139.00. Where the average retail selling price of led signs are $285.00, AffordableLed.Com offers such led signs for only $189.00. However, with this month's special taking as much as 60% off on led signs, led signs cost only a mere $129, giving retailers a chance to save as high as $156.00.
The led signs distributor also offers customized led signs with the most affordable prices available in the market. Not sacrificing art and quality, these led signs are safe to operate and available in multiple animation modes. Likewise, led signs available for purchase are brighter than neon signs and consumers are assured of a 1-year warranty on these affordable led signs.
Led signs are a small price to pay to ensure businesses of guaranteed success when it comes to customer attraction. The colorful hues and bright lights generated by led signs will not only draw attention but will also bring amusement to whoever glances its way, an investment well worth it.
About AffordableLED.com
Based in Southern California, AffordableLED.com is the leading manufacturer of indoor and outdoor LED signs. All LED signs are of high quality, produced with cutting edge technology. LED signs can be customized to suit the needs of the clients. All LED signs sold have a 1 year warranty and a lower-than-market price guarantee.
###