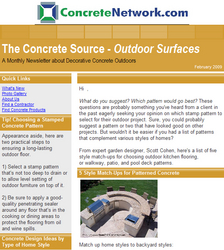 Yucaipa, CA (PRWEB) March 13, 2009
For consumers and concrete industry professionals wanting topic specific information in a convenient online newsletter, ConcreteNetwork.com has a recently re-designed format that provides just that. Going from one monthly newsletter to three topic specific, monthly newsletters, and one weekly newsletter, the site saw the need to break up its concrete information into four segmented newsletters, covering decorative concrete trends, concrete floors, concrete countertops, and outdoor surfaces.
Read by over 30,000 people, each newsletter is in a short, easy-to-read email format providing news, how-to tips, design ideas, green building strategies, and more insights into the latest trends in decorative concrete. Each newsletter also provides links to full articles and other information resources.
The Concrete Quest is a free weekly newsletter about decorative concrete trends in and around the home, ideal for homeowners and industry professionals wanting to stay up-to-date on the latest innovations. The Concrete Source- Floors, Countertops and Outdoor Surfaces newsletters are free and are sent out monthly providing topic specific information, project profiles, product information and much more. They are great for concrete contractors, builders, designers, architects and many other industry professionals.
For more information on who can benefit from these newsletters and to sign up for free online, visit the free newsletters sign up page on ConcreteNetwork.com.
ConcreteNetwork.com does not sell or distribute its mailing list to any other parties or organizations.
Established in 1999, The Concrete Network's purpose is to educate consumers, builders, and contractors on popular decorative techniques and applications. These include stamped concrete, stained concrete floors, concrete countertops, polished concrete, and much more. Over 10 million people visit ConcreteNetwork.com per year to research, get ideas and to find a contractor.
The site excels at connecting buyers with local contractors in their area through its Find a Concrete Contractor service. The service provides visitors with a list of decorative concrete contractors throughout the U.S. and Canada, and is fully searchable by more than 20 types of decorative concrete work in over 200 regional areas throughout North America.
###