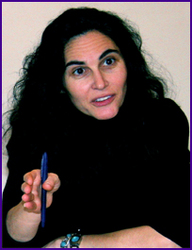 The Environment and the Effects of Climate Change
Fredericksburg, VA (Vocus) March 13, 2009
Marstel-Day, LLC announces the launch of a new audio program on its Website titled, "Vital Voices of the Environment." This innovative series features interviews conducted by company President and CEO Rebecca R. Rubin with a variety of critical environmental thinkers and planners of our time, each of whom offers a perspective on a key issue for the environmental future of our planet. These "Vital Voices of the Environment" span topics ranging from global climate change to localized environmental challenges, and offer a diverse set of informed opinions, allowing listeners to assess for themselves the shape and magnitude of environmental challenges; understand better the operating context for, and gravity of, the need for change; and perceive the possible pathways ahead. Marstel-Day plans to add new "voices" to the series every few weeks, and presently features experts on the following topics:
Sherri Goodman, Former Deputy Under Secretary of Defense for Environmental Security speaks on "The Environment and the Effects of Climate Change"
John Tippett, Executive Director of Friends of the Rappahannock (FOR), Talks About Unique Challenges and Successes in the Rappahannock River Region.
Will Travis, Executive Director of the San Francisco Bay Conservation and Development Commission (BCDC), Talks About the Future of the San Francisco Bay as it Confronts the Effects of Climate Change.
James Fahn, Executive Director of Internews' Earth Journalism Network, Speaks on the Importance of Environmental Journalism for Developing Nations
Mike Gage, President and CEO of the Conservation, Restoration and Renewal Team (CRRT), Speaks on Key Considerations for the Future of Transportation.
Energy Expert Dr. Robert Hirsch Speaks on World Oil Peaking.
###