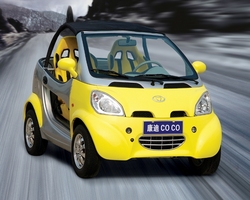 The show was very successful. Our booth was busy all the time even in a down year for NADA and for the whole auto industry
Lynnwood, WA (PRWEB) March 12, 2009
About 100 electric Kandi COCO cars have arrived in the US for the mass market. The car is in the class of low-speed vehicles with the top speed of 25 MPH. The plug-in cars have the range of 50 to 60 miles per charge, perfectly suited to consumers who look for eco friendly and low-cost transportation in urban areas, campuses, rental fleet, and retirement and golf communities. Solus International Corporation, the exclusive importer of electric Kandi COCO cars in the Americas, is actively making the cars available to customers across the USA through Solus's distribution network.
The electric COCO car was showcased for the first time at the 2009 NADA show (Jan, 2009, New Orleans) by Solus International Corporation (http://www.soluscorp.com) and two regional COCO distributors: Franklin Motorsport LLC (http://www.kandicoco.com) and Engesser ECO Auto's (http://www.engesserecoautos.com). "The show was very successful. Our booth was busy all the time even in a down year for NADA and for the whole auto industry," said David Irvine, VP of Sales at Solus International. There is more good news for electric car buyers.
The Stimulus Act signed into law in Feb, 2009 carries a provision in which buyers of electric low-speed cars can receive a 10 percent tax credit up to $2,500. With the tax credit, the actual cost of COCO for consumers will be well below $10000. "This COCO car really turns heads wherever we go. It is electric, it is stylish and it is actually more affordable than the cheapest gas-powered cars with the new tax credit!" added by Irvine.
Electric cars have been wanted for years, and with the new tax credit from the Stimulus Act, The stylish Kandi COCO car is a green car of choice that every consumer can afford.
###