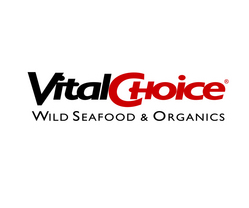 Bellingham, WA (PRWEB) March 16, 2009
Bellingham, WA PRWEB) March 16, 2009 -- Vital Choice Wild Seafood & Organics, the leading to-your-door provider of premium wild Alaskan salmon and other wild, certified-organic and kosher foods, is pleased to announce the addition of the Dr. Jonny Bowden "Healthiest Foods" pack to their line-up of quality product sampler packs.
The Healthiest Foods pack includes many of Dr. Bowden's personal favorites, including:

Three cans of Wild Red™ Sockeye (3.75 oz each, skinless-boneless)
Three cans of Albacore Tuna in extra-virgin olive oil 3.75 oz each, minimal-mercury, skinless-boneless)
Wild Salmon Sampler (two 6-oz. fillets each of Sockeye, King, and Silver salmon)
Organic Salmon Marinade Mix
Organic Berry Sampler (one 1-b. bag each of organic blueberries, strawberries, and raspberries)
At just $109, the Healthiest Foods pack represents a substantial saving over the cost of the items ordered individually, and qualifies for free shipping.
Dr. Jonny Bowden is an internationally known physician and nutrition expert who most recently authored "The 150 Healthiest Foods On Earth: The Surprising and Unbiased Truth About What You Should Eat and Why." In the book, 15 wild or organic foods featured at VitalChoice.com earned a star that indicates Dr. Bowden's "top choices." They include almonds, cherries, wild Alaskan salmon, sardines, strawberries, walnuts and more.
Vital Choice Wild Seafood & Organics also is endorsed by other nutrition-savvy physicians, including:

Dr. Andrew Weil
Dr. Nicholas Perricone
Dr. Christian Northrup
Dr. William Sears
Dr. Joseph Mercola
Dr. Stephen Sinatra
For more information on the Healthiest Foods pack, please visit http://www.vitalchoice.com.
About Vital Choice Wild Seafood & Organics:
Before founding Vital Choice in 2001, Northwest Washington native Randy Hartnell spent more than 20 years as a commercial fisherman in Alaska. Today, he is an active advocate for wild fisheries and ecological sustainability, and Vital Choice is a trusted source for convenient home delivery of the world's finest wild Alaskan seafood and organic fare. All Vital Choice foods are among the purest available and guaranteed sustainably harvested from healthy, well-managed organic farms and wild fisheries. The company's products are recognized for their superior taste and health benefits, and are endorsed by leading health and wellness experts, including physicians specializing in nutrition, pediatrics, and integrative health care.
###