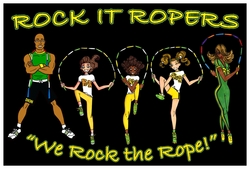 We hope it encourages others across the NY- tri-state area to create new teams within their local schools and become a part of the USA Jump Rope family!
(PRWEB) March 18, 2009
Congratulations to Lucie B's Rock-It-Ropers! Long Island's only USA JUMP ROPE speed team will be hosting its 1st Official Jump Rope Sub-Regional Tournament in New York City. The tournament is scheduled for Sunday, March 22nd, 2009 at The Hudson Guild, 441 West 26th street (bet 9th and 10th Ave) in Manhattan from 1:00-3:00pm and will determine eligibility for the USA Jump Rope Nationals competition this June in Galveston, Texas.
The Rock It Ropers are officially Region 10 competitors through the National organization. However, regional tournaments are usually held on Saturdays due to USA Jump Rope's recognition of Sunday as the Sabbath for the majority of members in the organization. But, the fact that the Rock It Ropers team is comprised of 99% Orthodox Jewish competitors made their attendance to a Saturday competition impossible. This prompted USA Jump Rope to come together to find a solution. So, in order to be inclusive a special tournament for the Rock It Ropers was approved, confirming USAJR's belief that everyone should be involved and have a chance to compete and qualify for the National jump rope tournament.
"We want to make this opportunity available to as many children as possible" states USA Jump Rope Executive Director, Marian Fletcher. "Nationally ranked officials and jumpers are coming up to support this effort."
The Rock It Ropers are comprised of 32 team members who represent some of the top schools in the Jewish Orthodox community in 5 towns (Long Island) : Bnot Shulamith, Hebrew Academy of Long Island (HALB), Hebrew Academy of the 5 towns and Rockaway (HAFTR), Torah Academy for Girls (TAG), Ogden, Oceanside, Brooklyn Ave School, and Stella K. Abraham High School for Girls (SKA).
With the support of USA Jump Rope, Lucie Buissereth has made it possible for this team to have their own qualifying tournament in NYC on a Sunday after their Sabbath. These children have worked hard to get to this point and are excited about finally being able to compete. Because Jump Rope is not as popular as most sports, the team even had to compete for space to hold this tournament. We thank The Hudson Guild for this opportunity to make this a great event for all.
Coaches Lucie B and Dion T are excited about this tournament and plan to have a 30 minute Jumprope Freestyle Show after the tournament. The public is welcome and encouraged to come see what jump rope is all about.
"We hope it encourages others across the NY- tri-state area to create new teams within their local schools and become a part of the USA Jump Rope family!" comments Lucie B.
Lucie Buissereth is the proprietor of Jump N'Fun and the excitement behind this effort. Her business in Long Island provides innovative jump rope classes for all ages. "My Jump 'N Fun program was created with one goal in mind: TO GET OUR KIDS FIT, STRONG, HEALTHY and FABULOUS! And what better way than through Jumping rope! Kids absolutely love it!" Lucie B!
Please contact Jump N' Fun or Lucie B! directly for more information on this exciting event.
For more information visit our website at http://www.LUCIEBJUMPNFUN.COM
Phone: Jump N Fun : 516 791- 1028
###