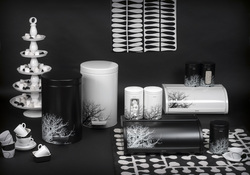 We are very much looking forward to debuting some of our exciting new products at the Chicago Home & Housewares Show
Woodcliff Lake, NJ (PRWEB) March 17, 2009
Brabantia Solid Company, one of Europe's oldest and most respected designers and manufacturers of high end, high quality and functional home steelware products, will be unveiling a host of new beautifully designed and extremely purposeful new products at the 2009 International Home and Housewares Show in Chicago on March 22-24.
"We are very much looking forward to debuting some of our exciting new products at the Chicago Home & Housewares Show," said Ab Van Houdt, Brabantia's Executive President, Sales, Marketing & Development "In Europe, and now in America, we are well known for our sleek, modern, and lasting stainless steel products as well as for our product innovations and inventions. Over the course of the company's history, we have invented several revolutionary products and technologies that other companies are now trying to replicate in America. We look forward to again being first to introduce our next generation of kitchen, bath and housewares to the U.S. marketplace at the Chicago Show," he added.
Among the exciting new products that Brabantia will be featuring at the Show, are:
The New Twin Bin Reinvents At-Home Recycling
Easily separate glass and plastic at home in high style with the new stainless steel Twin Bin and Twin Pedal Bin. Two bins in one, the new Twin Bin comes with two equal sized, 20-liter inner buckets that makes recyclable waste separation a snap. The Twin Bin is available in brilliant steel or matte steel with a fingerprint proof finish and comes with a 10-year guarantee. Prices start at: $225.00.
The Sleek, Modern Kitchen Storage Solution
Inspired by the ultra modern, sleekly designed, space-saving kitchens of Europe's top restaurants, the all stainless Kitchen Today system is an innovative new storage and display system that centers around a steel wall rail unit on which kitchen utensils, storage bins, shelves and hooks can hold and display kitchen tools and necessary items within easy reach. Easily expandable to suit kitchens of any size, the Kitchen Today system makes finding and storing kitchen tools simple and convenient. Kitchen Today is made of brushed stainless steel in a matte finish and is designed to be used in conjunction with Brabantia's Profile collection of more than 80 kitchen tools. Prices start at $18.00.
Museum Quality Storage Bins for the Kitchen
The new line of "Mystery" roll top bread bins, window canisters and pedal operated waste cans features a stunning, eco-inspired design incorporating stark tree branches against a satin backdrop. Available in "Light" where the tree design appears as black against a white background, or "Dark," where the design is reversed as white against a black background, "Mystery" provides impactful design and uncompromising durability to the modern kitchen. Prices start at: $12.00.
"Since our founding in 1919, Brabantia has invented and first introduced several important products and technologies, including the Touch Bin (1998), Sensor Bin (2005) and a fingerprint-proof matte steel finish (2004) that have revolutionized our industry and established Brabantia as the leading innovator in the industry," says Van Houdt. "Being first has its rewards and we are very flattered that our success has 'inspired' competition in the U.S. to try to reproduce our products and innovations such as our Touch and Sensor Bins and our fingerprint-proof finish. But nobody can compete with us in terms of style, design, workmanship, the quality of our materials and our unparalleled product guarantee that is the best in the business - our products are built to last and we stand behind that pledge. It is Brabantia's tradition of excellence, innovation and enduring quality that truly sets us apart."
With headquarters in The Netherlands and offices around the world, as well as a branch near Manhattan, Brabantia is rapidly becoming a market leader in the United States. To view the Brabantia products at the Home & Housewares Show, please visit BOOTH #S4439 - South Hall.
About Brabantia
At Brabantia, the domestic items of tomorrow are what we are producing today. Our products are designed to retain their style and performance for decades. It's more than a guarantee. It's what drives the company. Brabantia products are available at fine retailers such as Williams Sonoma, Crate and Barrel and Gracious Home, as well as The Container Store, Bed Bath and Beyond, and Lowes. For more information, visit http://www.brabantia.com.
# # #