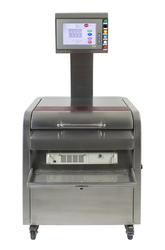 Belfast, Ireland (PRWEB) March 16, 2009
A leak tester machine for pharmaceutical and medical pouches and sachets which is manufactured by Northern Irish company, sepha makes its U.S. market debut through U.S. distributor Service Industries on St Patrick's Day in New York at Interphex, the major show for the Life Sciences manufacturing sector. PakScan identifies leaks in single or multiple non-porous sachets, pouches or other flexible packs. The new system is a fully validatable alternative to the Methylene 'Blue Dye' Test. The machine is expected to attract substantial interest from the thousands of U.S. pharmaceutical manufacturing and process development industries who visit the annual Interphex trade conference and exhibition held at the Jacob K. Javits Convention Centre.
As the PakScan leak test is clean, dry and non-destructive, samples which 'pass' the test can be re-introduced to the packaging line, reducing sample wastage whilst increasing product yield. When packs are tested using the 'Blue Dye' method, packs and their contents cannot be re-used whether they pass the test or not. A Pass / Fail status for each pack is determined by pre-programmed individual test methods, so operators have no influence over the test results. In-process controls allow the operator to monitor validity during each test cycle.
PakScan's inspects up to 4 large sachets simultaneously, each pack measuring up to 250x80x20mm. This speeds up testing and offers a more representative view of the entire production web. The machine can also be customized for smaller or larger format areas or to accommodate specific sample size requirements.
On the touch screen, PakScan indicates the Pass/ Fail status for each individual sachet, instantly identifying quality assurance issues with the packaging process. Detailed graphical test data is also given for each pack, enabling diagnosis of any problems, and preventing the production of further faulty packs as early as possible. All test data can be stored or printed for further analysis.
PakScan can detect leaks as small as 10 microns. Operation requires no special skills, and all machine functions are accessed via a touch screen display. The 3 minute product changeover is tool-less and requires only one low-cost nest for each different product. PakScan is a freestanding, integrated system with internally generated vacuum. The system can be calibrated to National Standards. User access and data storage is designed to be CFR 21 Part 11 compliant.
Aubrey Sayers, who is Chief Executive Officer of Sepha Ltd, explained: "U.S. customers have responded extremely well to our other range of leak testing equipment for blister packs. We're doing 7 times as much business with pharma-companies in the States through our U.S. distributor now as we were a year ago. The future looks promising too with the new U.S. administration's recent announcement on R&D tax credits seen by industry analysts as an important step in boosting innovation. President Barak Obama's focus on investment in scientific technology coupled with his commitment to the development of personalized medicines are positive for the drug industry and therefore positive for those that supply the industry, such as ourselves."
Sepha is a specialist manufacturer of non-destructive inspection equipment for inspecting the seal integrity of pharmaceutical and medical device blister packs, pouches and sachets. Sepha also designs and manufactures a range of deblistering equipment for product recovery from pharmaceutical blisters and lab-scale blister packing machines for clinical trial use.
Colour picture attached Photo Caption: Pictured is the new PakScan leak tester from Sepha; visit http://www.sepha.com
###