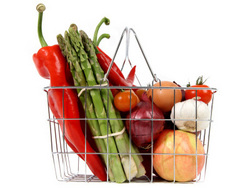 Zinc can be harder to get in your daily diet because it mostly comes from meat/fish/poultry but it is still important that you include it in your daily routine
Nottingham, UK (PRWEB) March 17, 2009
While it may seem like spring has sprung, many winter illnesses are still lurking, particularly this year, as the U.S. is experiencing a very late flu season peak. Doctors advise that your first line of defense may be your grocery list, yet a recent study conducted by Harris Interactive for Sambucol® black elderberry dietary supplements, revealed that nearly a quarter of U.S. adults (23%) are worried that they don't get the proper amount of nutrients from their regular diet.
"It's important that we maintain a healthy diet year round but this is especially true this time of year when we are exposed to a variety of illnesses," says Claire Wheeler, M.D., traditional and integrative physician and instructor at Portland State University's School of Community Health.
Dr. Wheeler has compiled her recommendations for an immune-boosting shopping list:
In the produce aisle:
•Papaya, bell peppers, broccoli, brussels sprouts and cantaloupes are great sources of vitamin C, an important antioxidant that helps support your immune system.
•Raw carrots, spinach, sweet potatoes, winter squash and Swiss chard are all great sources of vitamin A, an important chemical for its antioxidant properties and support of good immune function.
•Sunflower seeds and almonds are a great source of vitamin E, also antioxidants that may help support the function of white blood cells.
•Flax seeds and walnuts are sources of essential omega-3 fatty acids, which support good cell membrane function, critical for "communication" between immune system cells.
•Garlic has been shown in some studies to be protective against viral infections, as well as to add flavor to all sorts of cuisines.
In the supplements aisle:
•A great back-up to a diet rich in antioxidants is black elderberry extract. Found in the supplement aisle, Sambucol® black elderberry extract is the only black elderberry extract that has been clinically studied and proven to help support the immune system. According to the U.S. Department of Agriculture, black elderberry has twice the natural antioxidant capacity of blueberries and significantly more than cranberries, as measured by ORAC - oxygen radical absorbance capacity.
At the meat and fish counters:
•Oysters and Alaskan king crab, as well as beef and pork shoulder, all contain zinc, which can help support a healthy immune system. "Zinc can be harder to get in your daily diet because it mostly comes from meat/fish/poultry but it is still important that you include it in your daily routine," says Dr.Wheeler.
•Cold water fish like salmon are sources of essential omega-3 fatty acids.
Dr. Wheeler also tells us what to stay away from while in the food store. "Synthetic additives that require extra work for the body to metabolize should not be on your list. Also, bypass fried foods because the fatty acids are damaged by high temperatures. Fried foods often contain saturated fats and we all know that is the bad kind of fat," says Dr. Wheeler. "Simple sugars should also be avoided because they can cause disruption of your natural balance of blood sugar levels causing extra stress on your body," she adds.
*Survey Methodology
Harris Interactive® fielded the study on behalf of Sambucol® black elderberry from October 8-10, 2008 via its QuickQuerySM online omnibus service, interviewing a nationwide sample of 2,212 U.S. adults aged 18 years and older. Data were weighted using propensity score weighting to be representative of the total U.S. adult population on the basis of region, age within gender, education, household income, race/ethnicity, and propensity to be online. No estimates of theoretical sampling error can be calculated; a full methodology is available.
Note to Media: For more information on the clinically-proven, immune boosting properties of Sambucol or to set up an interview with Dr. Wheeler, contact Rachahd Tosado at Robin Leedy & Associates, (914) 241-0086 ext. 15, or rtosado@robinleedyassociates.com. Visit the Sambucol online newsroom at http://www.corporatenews.net/cgi-bin/pc200v3.php?pccl=24859 and http://www.blackelderberry.info for published clinical studies on Sambucol black elderberry.
###