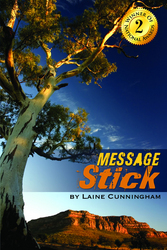 the kind of work that can and should be seen around the country.
Hillsborough, NC (Vocus) March 18, 2009
Celebrity guests at New York City's Amas Musical Theatre are in for a special treat. The theater, a nonprofit multiethnic organization located in Greenwich Village, selected the award-winning novel Message Stick for their VIP swag bag.
Amas has long attracted actors and artist of distinction, and the gala is no different. Dionne Warwick will receive an award, and actors from The Sopranos television show will perform songs from prior theater productions. Woodie King Jr., an Obie-award winner and the founding director of the New Federal Theater in New York City, will also be singled out for special honors.
For forty years, Amas has been regarded as unique among musical theaters. Its works cross cultural boundaries by presenting African-American, Latino, European and Jewish viewpoints. An important part of its mission is to connect with underserved audiences. By adding Message Stick to the mix, the theater expands its educational and multicultural components to include yet another heritage rich with ancient tradition.
Author Laine Cunningham was excited to hear about the development. All her work helps readers cross boundaries of race, culture and spiritual belief, so the Amas Theatre's focus on diversity matches her own approach. "It's a great opportunity to expand the book's reach and educate people about Aboriginal culture," Cunningham says.
The novel centers around Gabriel Branch, a man in his mid-forties. He is part of the Stolen Generation, children who were forcibly removed from their parents in an effort to assimilate them into European society. In the process, they lost all ties to their families and their heritage. Hundreds of thousands of Australian Aboriginal people alive today still suffer the lingering effects of the policy.
Sun Dogs Creations, the book's publisher, is eager to support this cause. Their motto, "Changing the World One Book at a Time," speaks volumes about their approach. The publisher brought in Patty Kakac, a singer with four CDs and a live performance on National Public Radio to her credit, to perform a song based on an Aboriginal story. Kakac is herself a lifelong activist for women and civil rights.
The song tells the story of seven girls who undergo the initiation ceremony that turns boys into men. Their courage and determination were so impressive the sky spirits swept them into the heavens. They can still be seen today as the constellation Pleiades, and remind people of how strong women truly are. A demo was recorded in time to include copies of the CD in the swag bag.
Sun Dogs Creations is also hosting a promotion around the Amas gala. Message Stick will be on sale from March 24 through April 7 through the author's website. Shipping to all US locations is free.
The gala will take place March 31. The New York Times hailed previous Amas productions as "the kind of work that can and should be seen around the country." Now that Message Stick is broadening that global perspective even more, their productions might become required viewing around the world.
###