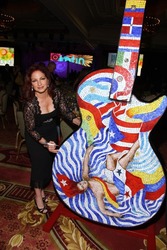 Miami, FL (Vocus) March 18, 2009
Gibson Guitar (http://www.gibson.com), presenter of Miami Guitar Town along with the city of Miami and Miami-Dade County, is proud to announce that Grammy Award-winning American singer and songwriter Gloria Estefan autographed the new completed "Gateway to the Americas" Les Paul Gibson Guitar sculpture.
Estefan, one of the world's best selling musical artists of all time with over 90 million albums sold and winner of seven GRAMMY Awards is known as one of the most successful crossover performers in Latin music to date. Most recently, The Latin Recording Academy honored her as the 2008 Latin Recording Academy Person of the Year at the 2008 Latin Grammys in recognition of her professional, musical and social accomplishments. En Español BMI held its 16th annual Latin Music Awards Thursday, March 12 at The Breakers Ponce De Leon Ballroom in Palm Beach, Florida, where Gloria Estefan was named a BMI Icon singer/songwriter.
The autographed "Gateway to the Americas" Gibson Guitar sculpture will be part of the Miami Guitar Town's exceptional display of ten-foot Gibson guitar sculptures and regular size Epiphone showcase guitars designed by local visual artists. It will be placed in front of Bongo's Cuban Café, a magnificent local restaurant and night club and one of the most celebrated party spots in Miami, and later auctioned off. All proceeds of the Miami GuitarTown project will benefit three local charities: The Miami Music & Art Fund, Miami Children's Hospital Foundation, and The Art and Culture Center of Hollywood.
For more information on the project go to http://www.miamiguitartown.com.
CONTACTS:
Caroline Galloway
GIBSON
615-423-4904
Juan L. Lopera
GIBSON
305-573-3523 Ext 17
###