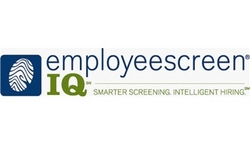 Generally we allow for end-users (including candidates, reference participants, and third-parties) to check a box on an electronic form to serve as their signature, with a legal disclaimer explaining what that means. When customers are not interested in that type of technology, we offer alternatives
Cleveland (PRWEB) March 24, 2009
An alarming 57 percent of requests for employment and education verifications were rejected when an electronically signed consent form was used, according to research conducted by the Quality Service division of employeescreenIQ, a global screening company. This verification of previous employment and degree is a critical step in the hiring process. Human Resource professionals rely on this information to make informed hiring decisions and with resume fraud at an all-time high accuracy and timeliness of information is essential.
"Even though the Electronic Signature Act of 1999 expressly recognizes such signatures as legally binding consent, we find that most employers and academic institutions still want to see an actual signature before releasing information," said employeescreenIQ's Vice President of Quality Service, Kevin Bachman. "If an HR Manager can't get the information they need to make a hiring decision, there's the likelihood they could simply move onto another candidate."
employeescreenIQ's research also revealed these interesting facts:

Academic institutions rejected the request for information 59% of the time when an electronic signature was used
Employers rejected the request for information 55% of the time when an electronic signature was used
Turnaround time increased if the company wanted to try again once they obtained an actual signature
This is a case where technology may not be the panacea it's intended to be. As we released in our 2009 background screening trends, integrating the employment background check process into Applicant Tracking Systems and HRIS platforms is on the rise. And while this can streamline the process, saving both time and money, it doesn't completely eliminate roadblocks. "Companies that leverage technology find themselves making a choice. Either they exit their automated system half the time to obtain handwritten signatures, decreasing the benefits of integration, or they receive less information, said Bachman. "It's also a risk for the candidate who may not get a job because their former school or employer doesn't follow a law passed 10 years ago."
So what are applicant tracking platforms doing to accommodate their clients in this regard? "Generally we allow for end-users (including candidates, reference participants, and third-parties) to check a box on an electronic form to serve as their signature, with a legal disclaimer explaining what that means. When customers are not interested in that type of technology, we offer alternatives," explains Susan Vitale, Director of Marketing for iCIMS (http://www.icims.com), a leading talent management solution. "While we are open to pursuing more advanced E-Signature technologies, many of our clients are not demanding these alternatives. Instead, they are looking for printing, signing, and scanning capabilities, which we do offer today. Our platform allows for one-click access to view electronic iForms, such as background checks, in a Word version, which can then be printed hard-copy, signed off on, and then scanned back into the system very easily. While this is not necessarily optimizing the automation process, customers who pursue this route are typically less concerned with full automation and more concerned with viewing a 'real' signature."
Due to the difficult nature of completing successful verifications, it is important employers work with an employment screening company that utilizes and can educate you about best practices methods in collecting electronic signatures. For instance the National Association of Professional Background Screeners (NAPBS) recommends the following when it comes to developing such processes:
E-signature process should require the applicant to consent to electronic storage and submission
Choices for consent should be stated in unambiguous terms ("I consent" & "I decline" vs. "send" or "submit")
Applicant should be informed of his or her right to withdraw consent and explain any conditions, consequences or fees that would result from such a withdrawal
Provide explicit instructions for the applicant to request a copy of their record or their consent in non-electronic form (A Summary of Your Rights Under the FCRA)
An electronic record should be retained and readily available for reproduction
You should outline the hardware and software requirements for accessing and retaining the electronic records that the applicant is consenting to receive
"We are seeing some electronic signatures that work better than others," said Nick Fishman, employeescreenIQ Chief Marketing Officer and Executive Vice President. "Rather than just a check box, some firms require a mouse-driven signature. Others have developed technologies that incorporate digital pen signatures. The most important thing is to ensure that the signature can be proven to belong to a specific individual. The day will come when electronic signatures are more regularly accepted by employers and academic institutions. Acceptance rates will continue to grow as new technologies are developed and education on the topic is evolved."
employeescreenIQ is a Cleveland, Ohio-based employment screening company offering a variety of employment screening services to mid- and large-cap organizations throughout the world, including those in North and South America, Europe and East Asia.
This press release was distributed through eMediawire by Human Resources Marketer (HR Marketer: http://www.HRmarketer.com) on behalf of the company listed above.
# # #