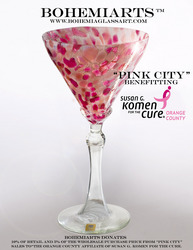 Through the sale of this glassware, we can raise awareness while giving back
Laguna Beach, CA (PRWEB) March 23, 2009
Bohemiarts™, sole United States wholesaler of one-of-a kind Bohemian glass art stemware, recently announced the pairing of their colorful designer products with national charities. The coupling of the decorative and functional glasses with certain charitable organizations will result in proceeds of each sale being donated.
Bohemiarts™ owner has created unique combinations matching each charity's focus or representative color to a particular glass. The "Pink City" selection will benefit the Orange County Affiliate of Susan G. Komen for the Cure®. Bohemiarts welcomes worthy charities to become beneficiaries in this fashion with all other available color combinations in the collection.
For each piece of glassware purchased, Bohemiarts will give 5% of the wholesale purchase price and 10% of the retail purchase price to the chosen charity. An ideal item with which to celebrate worthy causes, the heirloom glasses come from an exclusive line of Bohemian glass art created by old world artisans in the Czech Republic who have pioneered the craft for over a century.
"Through the sale of this glassware, we can raise awareness while giving back," Bourbonnais said. "By connecting our business to the important foundations established, we can make a dramatic difference in the world as we know it - through art."
The late Kim Ward originally sold the glassware line in Laguna Beach. Bourbonnais purchased the rights to the glassware after Ward's losing battle with breast cancer. Now closer to her heart after her own mothers bout with breast cancer, Bourbonnais consistently seeks ways to give back to community and notable causes.
For more information, or to order Bohemiarts Glass Stemware, visit http://www.bohemiaglassart.com and click on "Cheers for Charity" or call 949.981.0465.
About Susan G. Komen for the Cure®:
Nancy G. Brinker promised her dying sister, Susan G. Komen, she would do everything in her power to end breast cancer forever. In 1982, that promise became Susan G. Komen for the Cure and launched the global breast cancer movement. Today, Komen for the Cure is the world's largest grassroots network of breast cancer survivors and activists fighting to save lives, empower people, ensure quality care for all and energize science to find the cures. Through events like the Komen Race for the Cure, nearly $1 billion has been invested to fulfill that promise, making Komen for the Cure the world's largest source of nonprofit funds dedicated to fighting breast cancer.
For more information on the Orange County Affiliate of Susan G. Komen for the Cure, please visit http://www.komenoc.org or call 714-957-9157.
###