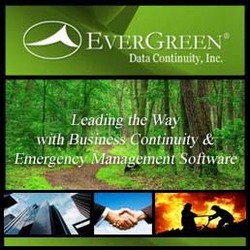 EverSafe is a major breakthrough in changing the face of disaster preparedness and emergency response. On-line collaboration of emergency information is critical to saving lives, assets and the environment
Newbury, MA (PRWEB) March 25, 2009
EverGreen Data Continuity, Inc has announced the release of its EverSafe Emergency Collaboration software. EverSafe provides a secure web portal to store, collaborate and manage all emergency management information needed for any disaster event.
Federal, state, and local governments including healthcare, police, fire, emergency management, medical response, elected officials and others are the safety cornerstone for our communities before, during and after any crisis situation. These organizations are required by FEMA's National Incident Management System-NIMS to have contact lists, BC/DR - COOP plans, pandemic plans, disaster supplies, asset lists, incident procedures and many other shared information resources. The creation, management and sharing of this information is a formidable task to ensure its availability, accuracy and timeliness during a crisis. The goal is to provide a seamless process to plan, prevent, respond to and recover from events regardless of cause, size, location or complexity in order to reduce loss of life, property and environmental impact.
EverGreen removes the complexity and high cost of developing and managing NIMS compliant emergency information with its award winning EverSafe software solutions. The EverSafe Emergency Management Portal provides a virtual Command Center as a means to collaborate, disseminate and manage emergency management information. Document folders are assigned according to events, organizations or any other appropriate category. Collaboration is managed via security controls for document access, change, and sharing to ensure the latest information is available on-line for crisis response. Additionally, EverSafe supports calendar scheduling, event alerts and integration of web-links for training and other emergency information. EverGreen guarantees 7*24*365 information availability with its "Zero Downtime" data centers.
"EverSafe is a major breakthrough in changing the face of disaster preparedness and emergency response. On-line collaboration of emergency information is critical to saving lives, assets and the environment", said Robert Burns CEO, EverGreen Data Continuity, Inc.
As the Emergency Preparedness and Response industry evolves, on-line collaborative solutions are necessary to expedite response and recovery operations. EverGreen leads the way with our EverSafe Emergency Management Portal. Easy-to-implement and even easier to use, EverSafe can be customized by EverGreen portal design experts for any organization's needs. EverSafe brings critical documents and communications to life with the latest in collaboration technology.
For additional information on how EverGreen can improve disaster preparedness and emergency response please visit http://www.evergreen-data.com or contact us at 888.489.6660.
EverGreen Data Continuity, Inc has been providing worldwide business continuity and emergency management solutions for more than ten years to financial, medical, government and other institutions. EverGreen is a Microsoft Certified Partner as well as the winner of FEMA's Region 1 Outstand Partner Award.
###