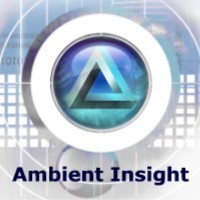 While no segment is immune from a recession, there are buying segments that tend to be 'recession-resilient' such as education, healthcare, and consumer
Seattle, WA (PRWEB) March 26, 2009
According to a new report by Ambient Insight, the U.S. demand for learning technology products and services is growing by a five-year compound annual growth rate (CAGR) of 16.3% and revenues reached $30 billion in 2008. The market is favorable for learning technology suppliers, because of the recession, not in spite of it. The recession is now a growth catalyst for the sales of learning technology products and services.
"While no segment is immune from a recession, there are buying segments that tend to be 'recession-resilient' such as education, healthcare, and consumer," reports Sam S. Adkins, Ambient Insight's Chief Research Officer. "Not surprisingly, academic institutions, healthcare organizations, and consumers are strong buyers throughout the forecast period."
The report is called 'The U.S. Market for Learning Technology Products and Services: 2008-2013 Forecast and Analysis' and includes revenue forecasts for eight learning technology products broken out by three categories: content, technology, and services. The analysis combines the expenditures of eight buyer segments.
"Self-paced eLearning, even though the most mature product, will generate the highest revenues during the forecast period, driven by the boom in demand from academic buyers and the non-enterprise corporate buyers," comments CEO Tyson Greer. "Yet, the fastest growing learning technology product type is Cognitive Learning followed by Collaborative Social Network Learning."
A free Executive Overview is available at:
http://www.ambientinsight.com/Reports/LearningTechnology.aspx
This report is evidence-based and designed to help suppliers identify sustainable business models, develop competitive products, execute on go-to-market strategies, and generate significant revenues and profit. This kind of data is indispensable in recessionary business environments.
"In the current economic climate, buyers are eager to migrate to more cost-effective solutions. The current market offers significant revenue opportunities for suppliers, particularly those that offer second and third-generation learning products to buyers," adds Adkins. "These suppliers are innovating their way out of the recession and not only attracting buyers, but a significant amount of investment capital as well."
For more information on this research, please contact:
Sam S. Adkins, Chief Research Officer
Ambient Insight, LLC
360-805-4298
###