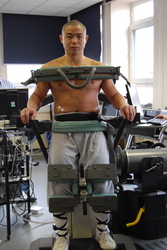 I teach my students how to use their Qi to protect themselves against ill health, stress, and ageing
London,UK (PRWEB) March 27, 2009
Shaolin Steel Jacket is the highest form of Qigong, which allows the practitioner to feel no pain when they are hit with iron bars or bricks. In order to practice this technique, the practitioner has to have developed both Kung Fu and Qigong skills to a very high degree. Shifu ( Master) Yan Lei has achieved great recognition for having mastered this skill. He began his training as a teenager in the Shaolin Temple in China and is now based in the West.
"Most people in the West learn how to drive a car when they are teenagers. I learnt how to practice Shaolin Steel Jacket," says Shifu Yan Lei.
Qi sometimes known as Chi or Ki simply means breath or life energy and Gong sometimes known as gung means work. Qigong literally means breath work. But because Qi is invisible many people are sceptical of its existence and believe that Yan Lei is able to withstand blows because he has such strong stomach muscles.
To test this theory out, a Biodynamic Machine was used to test Yan Lei's muscle strength alongside a novice rower.
"We looked at dynamic measures of strength of the abdominal or stomach muscles at two different speeds,' says Dr McGregor from Imperial College London. "Testing the strength at different speeds helps us look at both explosive strength and slowly acquired strength. We also looked at static strength where the body doesn't move, but force is produced by pushing on the lever of the apparatus which is fixed. We found that the rower and Yan Lei had very little difference apart from in explosive strength where Yan Lei was much stronger."
A scientist from Nottingham University then tested Yan Lei's muscles using a probing device.
"I would expect most muscles when contracted to become stiffer - feel
harder when pressed. This is what happened to the rower. It did not seem to happen with Yan Lei's stomach,' says Dr McNally from Nottingham University. "In effect his stomach became bouncy, with the energy being returned to the prodding device... The springiness might then be to do with his diaphragm and the air in his chest."
These findings backs up Yan Lei's explanation as to how he does his extraordinary Steel Jacket,
"I put my Qi or breath into my ribs. It's my breath that protects me against the blows of a brick. Without the practice of Qigong, Shaolin Steel Jacket would be impossible," says Yan Lei.
He hopes that his Shaolin Steel Jacket demonstration will inspire more people to take up the Chinese practice of Qigong.
"I teach my students how to use their Qi to protect themselves against ill health, stress, and ageing," says Yan Lei. 'At the Shaolin Temple we believe it's best to prevent illness before it happens, which is why we do Qigong."
The Shaolin Qigong movements that Yan Lei teaches on his instructional DVDs are practiced by people all over the world. Suitable for beginners as well as experienced practioners. The simple but dynamic exercise and self-massage program is a powerful longevity tool that not only protects the body's health but increases feelings of well-being.
Notes to editors:


Shifu Yan Lei is a 34th generation fighting disciple from the Shaolin Temple in Henan, China. He has been studying Shaolin martial arts for over twenty years, and is the UK's expert in Shaolin Qi Gong and Kung Fu. 
He has a popular range of DVDs which are designed to guide you through the authentic Shaolin teachings of Qi Gong and Shaolin Kung Fu. They frequently top the Amazon martial art's best sellers' chart, and offer a graded teaching system with exercises and practices direct from the Shaolin Temple in China. 


The Shaolin Qi Gong DVD range includes: • Shaolin Warrior: Qi Gong Vols. 1-3
• Available from: http://www.shifuyanlei.co.uk.

http://www.youtube.com/user/ShifuYanLei
###