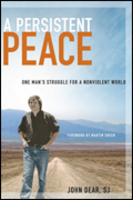 Steadfast, organized nonviolence does work; it leads to new avenues of justice, peace and hope.
Chicago, IL (Vocus) March 27, 2009
How does a "spoiled, wealthy frat boy" go from beer-chugging contests in a Duke University fraternity to peace activism and more than 75 arrests in the name of the nonviolent Jesus? John Dear, SJ, a 2008 Nobel Peace Prize nominee, tells his story in A Persistent Peace: One Man's Struggle for a Nonviolent World. An E-book is also available.
Dear has organized hundreds of demonstrations against war and nuclear weapons. His work has taken him to war zones around the world, including Iraq, where he led a delegation of Nobel Peace Prize winners to witness the effects of sanctions on Iraqi children. It hasn't been an easy life. His activism was generally not supported by his superiors, and he was considered "unmissionable" and "disobedient" by one Jesuit superior.
But for Dear, commitment to nonviolence is an all-or-nothing proposition. A Persistent Peace is the story of his consistent and tireless work for peace, including his arrests and imprisonments, death threats made against him for criticizing the military (including a threat from the father of one of his students at a Jesuit high school, who threatened to shoot him dead in front of his class), and many other amazing stories of social action for peace.
Dear experienced a profound transformation during college that began with the musical and spiritual mentorship of the late jazz pianist Mary Lou Williams, a Catholic Christian artist-in-residence at Duke. Dear was also rocked to the core by biographies of Robert Kennedy and Martin Luther King, Jr., compelled by their compassion and commitment to nonviolence. His aspirations for success as a pop star, lawyer, or in the family trade of newspaper publishing gave way to the priesthood and a life dedicated to stopping war. Dear makes clear that the peace cause is an urgent one that concerns each person.
He shares what he has learned in the struggle: "Gandhi, Dorothy Day, Dr. King, the Berrigans, and Merton were right: nonviolence holds the key to personal, social, and global transformation," says Dear. "Steadfast, organized nonviolence does work; it leads to new avenues of justice, peace and hope."
A Persistent Peace: One Man's Struggle for a Nonviolent World
by John Dear, SJ
Loyola Press $22.95 hardcover
Michelle Halm
PR & Communications Manager
773-281-1818 x204
773-529-3789
mhalm (at) loyolapress.com
###