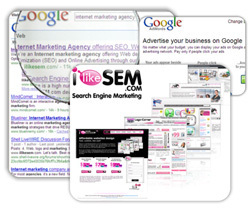 New York City, NYC (Vocus) March 27, 2009
An innovative Internet Marketing Agency, ilikesem.com, unveils its web site to companies who need to improve their online presence. ilikesem.com has launched a new interactive web site with a portfolio of professional Internet marketing services at affordable rates.
In times of economic weakness, businesses must take aggressive measures to meet their goals, while also positioning themselves competitively for the inevitable resurgence. Our Internet Marketing Agency provides companies the tools to actively promote their businesses and achieve tangible results at modest prices.
The new online portal offers services to everyone interested in promoting a business online. From corner stores, to restaurants, to manufacturers, the power of Internet is available to everyone who needs to boost their business without breaking the bank.
The new Internet marketing agency offers top quality products in these services:

Search Engine Optimization (SEO)
Pay per Click (PPC)
Web design and Programming services
With the help of experts in each specific area, the company works to place businesses in the top results with primary search engines. With a focus on key details, our Internet Marketing Company develops appealing web sites which target the right customers to boost your sales.
I like Search Engine Marketing opened their main development office in Bogota, Colombia in an effort to keep overhead low, and quality high. Smart sourcing in Colombia allows the company to hire the best professionals in the industry at much lower cost than in the U.S. while getting top results.
Lower rates and top quality takes our Internet Marketing and Advertising Company a step above the competition, offering businesses of all sizes a real competitive edge. The agency delivers quality and pricing in all SEM services no competitor can beat.
11 years of professional experience is reflected in the work of the ilikesem.com experts in the following areas: SEO, Adwords, web building, web design, copy writing and programming.
Internet marketing is available to expand the reach of your company at great prices. Visit the new web site http://www.ilikesem.com
###