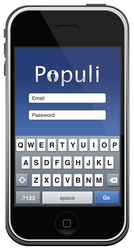 While maintaining security, Populi users now have unprecedented access to the information that they need, when they need it.
Moscow, ID (PRWEB) March 30, 2009
March 31, 2009 -- The Populi development team is pleased to announce the release of the Populi iPhone application. Designed to expand student and teacher access to the new, web-based college management system and SIS, the Populi "app" takes full advantage of the iPhone's innovative and intuitive touchscreen interface. The free app is available to download in the iTunes App Store for use on the popular iPhone™ and iPod Touch™.
"We're very excited to offer Populi clients mobile access to their information," said Isaac Grauke, Vice President of Populi Operations at EMSI, the company that owns Populi.
Like Populi itself, the iPhone app is built to deliver the features that college users need via an intuitive, easy-to-learn interface. "We've designed our app around the sorts of things that mobile users want to do--they want to find people and call them, they want to check their grades, and they want to take attendance," said James Hill, EMSI Vice President of Development.
The app, which requires login credentials to a college's Populi server, gives users secure and encrypted access to their personal address books and calendars, the college directory, and photo profiles of other people at the college, which they can tap to call, email, or get a map to their address--while respecting all users' privacy settings.
Teachers can take attendance, view rosters and student grade averages, and check out information for the courses they're teaching. Students can check their current course information and in-progress grades, and also view their cumulative credits, GPA, and read course-related attachments like assignments and materials.
"Mobile access is all about increasing productivity," continued Grauke. "Whether you're a teacher or a student, everyone needs to access the college's information system." 
Populi, an advanced, fully-hosted, web-based college management system, integrates a college's student and personal records with academic, admissions, and billing functions, in addition to built-in email and scheduling. And because Populi clients always have access to the latest, most powerful version, they don't need to upgrade their software to let their students and teachers access Populi through the iPhone app. "This is yet another step toward making college information and management simple," concluded Grauke. "While maintaining security, Populi users now have unprecedented access to the information that they need, when they need it."
About Populi
Populi is a fully hosted, web-based administrative software system developed for higher education. Colleges choose Populi because it is a convenient, cutting-edge, user-friendly, comprehensive, and powerful way to manage their core information. Its software-as-a-service business model and per-student pricing with no upfront costs make it one of the most affordable solutions on the market. Visit http://www.populiweb.com for more information.
Contact:
Nick Holloway, Business Development Representative
Populi division, EMSI
1-877-4-POPULI
1-877-476-7854
###