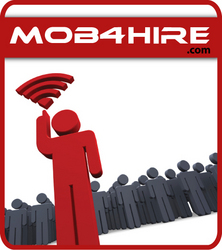 Mob4Hire's innovative method of simplifying application testing is attractive to us on several fronts
Las Vegas, NV (PRWEB) March 30, 2009
Mob4Hire is pleased to announce that it has signed a marketing deal with Gamelion in order to better facilitate the worldwide testing of mobile applications. Gamelion will enter their approximately 4800 handset/carrier combinations into the database of Mob4hire, bringing their total global handset testing marketplace to over 8000 handsets, which will help mobile application developers better test their applications in the European marketplace.
Stephen King, CEO, Mob4Hire states, "We are thrilled to be partnering with this high quality mobile player and it certainly strengthens our position in Europe in terms of scope and breadth. Gamelion has some of the biggest players in the industry on their customer list and one of the largest handset parks in Europe."
Award winning, Mob4Hire has created a bidding platform to help mobile developers traverse the myriad of handsets, platforms and networks that comprise the mobile industry today. Developers can easily contact testers from all over the world in order to ensure the quality and functionality of their applications. Gamelion's handsets and strong technical staff will triple Mob4Hire's MobPro testers, which are comprised of professional testers all over the world.
"Mob4Hire's innovative method of simplifying application testing is attractive to us on several fronts," adds Anton Gauffin, CEO of Gamelion. "Mob4Hire acts as a marketing arm for our mobile testing services while increasing our return on investment with this large, but depreciating capital asset, but the real winner will be the mobile developer who will be able to access quality testing services faster and less expensively."
About Mob4Hire:
With over 8,000 handsets on more than 250 operators in 91 countries worldwide, Mob4Hire (http://www.mob4hire.com) is the leader in real world, crowd sourced, mobile application testing. Using Web 2.0 social networking, Mob4Hire significantly reduces mobile application testing costs and reduces time to market by connecting developers with eager, lower priced, crowd sourced testers and focus groups. Mob4Hire also provides their unique MPCP (Micro-Payment Crowd Sourced Platform) to developer networks and app stores such as O2 Litmus to allow for private labeled communities to be added to existing Carrier and Handset Manufacturer offerings. Founded in 2007, Mob4Hire was recently chosen as a finalist for both Mobile Monday Peer Awards and the GSMA Top Innovator Awards at GSMA Barcelona, Other recent accolades include an Under the Radar Audience Choice Award, as well as being chosen as one of Backbone Magazine's top 20 Web 2.0 firms. Mob4Hire is headquartered in Calgary, Alberta, Canada with offices in Victoria, British Columbia, and London, U.K. For more information, visit http://www.mob4hire.com.
About Gamelion:
Gamelion (a BLStream Group company) is a creative studio focusing on casual games and funware, committed to creating success for its world leading customers. Since 2002 Gamelion has created engaging entertainment products for leading game publishers, media houses and handset manufacturers. The team creates entertainment with high production values and has a track record of delivering critically acclaimed titles based on well-known corner franchises of the global gaming industry.
In addition to team's design and delivery capabilities, Gamelion has also one of the largest handset parks in Europe, offering professional Mobile Post Production services with maximum device coverage for carriers in Europe, US, Latin America and Australia.
For more information visit http://www.game-lion.com
About BLStream Group:
BLStream is a unique globally operating convergence specialist, delivering products and services for mobile, entertainment and enterprise sectors. The company's expertise is proven by nine years of successful track record in delivering advanced mobile and internet technology solutions and content for world's leading brands.
BLStream excels in new and emerging technologies and offers innovations and new business models that leverage the constantly evolving multiplatform environment.
BLStream offers advanced technology solutions with strong emphasis on user experience. Our mission is to enable global brands to differentiate their offerings in today's converging environment through seamless integration of mobile and web services. We believe that the user experience will increasingly dominate not only in the consumer offerings and but also in the enterprise sector.
The clients include Nokia, Motorola, Symbian, Qualcomm, Electronic Arts, Sony Pictures, Namco Bandai, Square Enix, Yahoo! Research Berkeley, BBC, ERA and Play
For more information visit: http://www.blstreamgroup.com