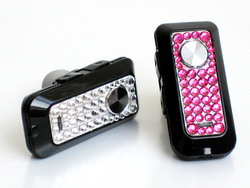 As women starting out in a 'men's based electronics world', Kailynn and Nikki feel that the consumer will understand and relate to why they created these products for them.
San Diego, CA (PRWEB) March 29, 2009
According to a recent study by GE Money, the average woman spends 399 hours and 46 minutes a year shopping. What are they shopping for? Trends are pointing towards electronics.
According to Best Buy recently in PINK magazine women spend 14 billion more on electronics than men. They're spending money on themselves of course, but they are also purchasing gifts for their children, husbands, friends, and co-workers. Women are looking for that special gift that is different and unique and stands out from all the other gifts.
http://www.chicBuds.com was recently noted at CES, Las Vegas as the trend of the future--Fashion Meets Electronics. Kailynn Bowling and Nikki Gutshall founded the company to bring a new twist on electronics. Marketing to women and men differ--a woman shops for a need and looks for a product to fill that need. She wants more than pink products, she wants function and something that makes her feel good. It's the whole experience that she expects to get from her products. "As women starting out in a 'men's based electronics world', Kailynn and Nikki feel that the consumer will understand and relate to why they created these products for them."
The most recent addition to the http://www.chicBuds.com line is PinkTooth Wireless Headsets for your cell phone. It's the fashionable alternative to those bulky or boring wireless headsets. The tiny gadget is almost too cute to stow away in a purse or a pocket, even when not in use! It is the perfect fit for any classy or creative cell phone user.
Many states are turning to road safety as a major priority. Arkansas, Arizona, California, Connecticut, Ohio, the District of Columbia, New Jersey, and New York have already taken steps to protect drivers. Soon most states will have adopted at least a hands free cell phone use law to keep every driver's attention on the road. In numerous foreign countries using a handheld cell phone while driving has already been outlawed, including most vacation hotspots. Leave your own safe traffic footprints and adopt good driving habits by purchasing a wireless headset. chicBuds offers PinkTooth a convenient, stylish and functional alternative to the bluetooth hands free car kits; sun visor.
The PinkTooth wireless headset is discrete with its lightweight compact size and includes attachments and inner ear buds to fit all ear sizes. It features clear sound, an easy to touch power button, and a 2 color LED light.
Consumers can chat away their free time with friends and family with a talk time that reaches up to 6 hours. Function calls for the Rechargeable Li-Polymer Battery tucked inside. If you forget to charge the device overnight, don't worry! Standby time is up to a lengthy 200 hours.
The PinkTooth Wireless Headset retails for $49.99, less expensive than the average wireless headset and comes in pink or clear Swarovski Crystals to add shimmer to the charming PinkTooth apparatus and take it from electronic necessity to style accessory. A cute candy tin package dresses the earpiece up for easy gifting and convenient storage.
A PinkTooth is a great reward for any occasion. Birthday girls will be grateful for a present that will outshine all their friends. Bridesmaids and even the Bride herself will welcome a chic substitute for the usual wireless headset for cell phones. It's for the girl who has everything, except of course, an adorable wireless earpiece.
A Bluetooth couldn't be any more lovable and sweet than the PinkTooth by http://www.chicBuds.com!
# # #